Mango Key Lime Tart with Quinoa Flake Almond Crust
Each Monday is a canvas and only you choose with which colors you'll paint it and this Monday we choose sun-kissed vibrant yellow just like this tropical and tangy Mango Key Lime Tart with Quinoa Flake Almond Crust that has our mouths watering just by looking at it! Let's start Monday with enthusiasm, laughter, thousands of smiles and cheerfulness.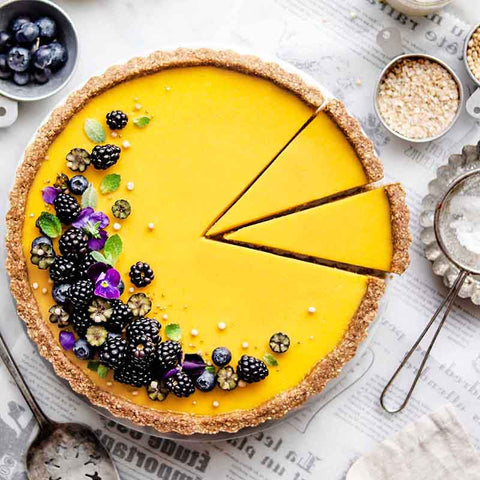 Ingredients
Crust:
1¼ cup gluten-free rolled oats 
¾ cup almonds 
⅓ cup Suncore Foods® Snow Quinoa Flakes 
¼ cup coconut oil 
¼ cup pure maple syrup 
½ tsp vanilla bean extract
Filling:
600g mangoes, purée 
⅓ cup freshly squeezed lime juice 
¼ cup maple syrup 
1 tbsp key lime zest 
1 cup full fat coconut milk 
2 tsp agar agar powder
Directions
1. Preheat oven to 180C. Grease a tart pan. Set aside.
2. In a food processor, process rolled oats, Suncore Foods® Snow Quinoa Flakes, almond, until finely ground. Add the maple syrup, vanilla, coconut oil and pulse until well combined.
3. Firmly press the mixture into the bottom and sides of the pan. Bake for 20 mins or until it turns golden brown. Let cool completely.
4. For the filling: In a food processor, purée mangoes until smooth. In a sauce pan combine the coconut milk, lime juice, key lime zest, bring up to a boil and add agar-agar powder. Whisk constantly until agar completely dissolved. Then add in maple syrup, whisking constantly. Allow to boil for approximately 30 seconds. Remove from heat and pour the mixture to the food processor with the mango purée. Pulse until well combined. Strain it through a fine mesh sieve. Then pour mango lime mixture to a cooled tart shell and place in the fridge for at least 6 hours to set.
---