Strawberry Grapefruit Pink Pitaya Tart
Get ready to get your pink on with another gorgeous tart. We can't get over the perfect medley of fruits on this Strawberry Grapefruit Pink Pitaya Tart plus the soft tint of beautiful red dragon fruit color with a sing of flavor . Nothing says summer quite like this tart!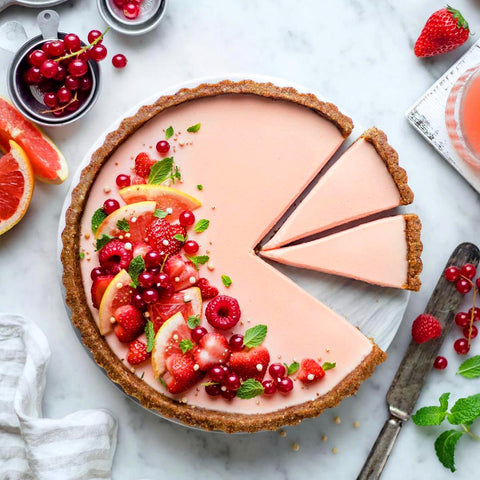 Ingredients
Make a 8" Deep Tart Pan
12 dates, pitted 
1/2 cup buckwheat groat 
1 cup almonds 
2 tbsp flaxseed meal 
2 tbsp pure maple syrup 
1 tsp vanilla bean extract 
2 tsp Suncore Foods® Pink Pitaya Powder
1 cup fresh strawberry 
1 cup grapefruit juice 
1 cup full fat coconut cream 
1/3 cup pure maple syrup
2 tsp agar-agar powder
Directions
1. Grease an 8-inch tart tin. Set aside.
2. In a food processor add crust ingredients and process until grounded and well combined. Firmly press the mixture into the bottom and sides of the prepared tart tin. Place in the freezer to set while you work with your filling.
3. Add strawberries in a blender. Blend into a puree. Add grapefruit juice, blend it again. Strain juice through a mesh sieve.
4. 
In a saucepan, bring the strawberry grapefruit juice and coconut cream to a boil. Add Suncore Foods® Pink Pitaya Powder, agar-agar and maple syrup. Stirring constantly, cook until agar completely dissolve.
5. Allow to boil for approximately 30 seconds. Strain mixture through a mesh sieve.
6. Let the mixture to cool for 10 minutes before pouring into tart.
7. Place tart in the fridge for 2 hours to set.
---