Lentil Quinoa Chili
We love a good bowl of chili year 'round! Hearty. Flavorful. Simply good. Comforting. Satisfying. You name it! This delicious Vegan Lentil Quinoa Chili is sure to impress and will have you falling head over heels in love with it after the first bite! Make this dish for a crowd or a batch over the weekend to enjoy for lunch throughout the week!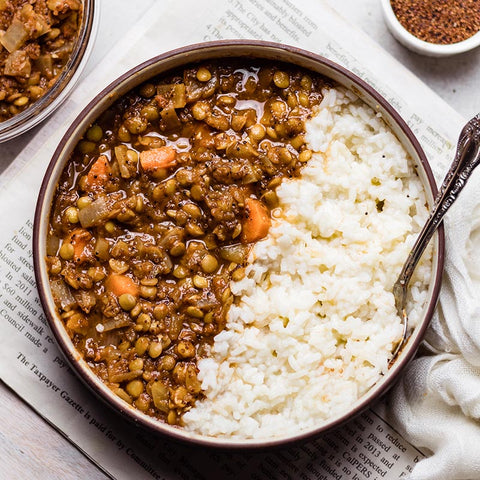 Ingredients
Serves 3-4
½ cup Suncore Foods® Quinoa Royal Rainbow Seeds (100g)
1 large onion, diced
4 cloves garlic, minced
2-3 carrots, chopped
1 green chili, minced
1 tbsp chili powder
2 tsp cumin
½ tsp coriander
1 tsp oregano
½ tsp salt 
2 tbsp tomato paste
1 28-oz can crushed tomatoes (800g)
1 cup brown/green lentils, rinsed (200g)
2-3 cups vegetable broth
Directions
1. In a large pot, saute the onion, garlic, carrots, and chili for a few minutes.
2. Add in spices and tomato paste, mixing until fragrant.
3. Pour in tomatoes, lentils, and vegetable broth.
4. Cover the pot for 8 mins on low heat., then add in the Suncore Foods® Quinoa Royal Rainbow Seeds.
5. Cover again and cook for 8-10 mins, until the lentils are tender.
6. Season with lemon juice to taste and serve warm.
---