Indigo Blueberry Pancakes
Feast your eyes on this fluffy stack beautifully colored indigo, or should we say in-we-go with our forks to enjoy these Indigo Blueberry Pancakes! We could definitely enjoy these over and over and over again!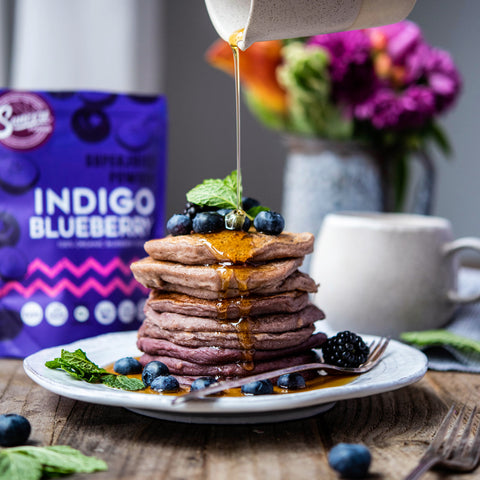 Ingredients
¼ cup Suncore Foods® Indigo Blueberry Powder
1 cup gluten free flour
⅓ cup oat flour
¼ cup almond flour
1 ½ tbsp cane sugar
½ tsp salt 
½ tsp baking powder
¼ tsp xanthan gum
¼ tsp baking soda
1 ¼ cup dairy free milk
3 tbsp melted non dairy butter
½ tbsp vanilla extract
½ cup aquafaba
Directions
1. Drain 1 can garbanzo beans, but save the liquid (aquafaba).
2. Add the aquafaba to a stand mixer and mix at high speed for about 10 minutes until the aquafaba forms stiff peaks.
3. Mix wet ingredients in one bowl and dry in another.
4. Whisk wet ingredients into dry ingredients well until there are no lumps. Using a spatula, gently fold ¾ cup of aquafaba into pancake mixture. Let sit 20-25 minutes.
5. Preheat pan over medium low heat for 5 minutes. Add about ¼ cup of batter to pan and cook for 3-4 minutes on one side, flip and cook another 2-3 minutes.
6. Repeat and enjoy!
---