Hokkaido Matcha Milk Bread
If you dream of eating bread, you will be rich and powerful. In general, bread is a good sign in a dream. It means that life will be simply good and this pillowy soft Hokkaido Matcha Milk Bread is the bread of our dreams! So fluffy and airy light, it's like you're holding a lovely loaf of cloud! Incorporated Suncore Foods®️ Midori Jade Matcha Powder for that gorgeous green color and elevated these sweet loaf to delicious matcha flavor greatness!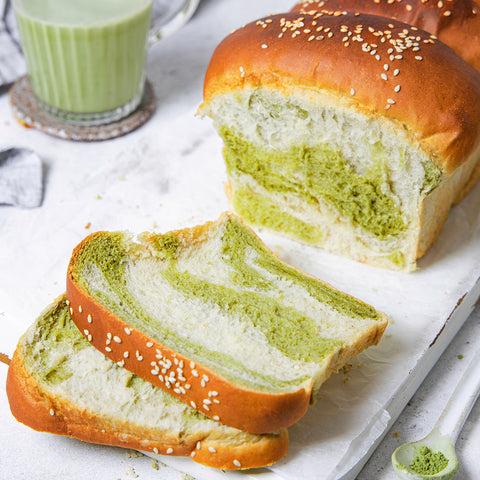 Ingredients
For the Bread Starter (roux or tangzhong):
25g bread flour ("0" type in Europe)
3 tbsp water
3 tbsp oat milk

For the Bread:
½ cup oat milk, warm (55C | 110 F)
1/4 cup vegan butter

Dry Ingredients:
1 pack instant yeast
2 ¾ cups bread flour
2 tbsp coconut milk powder
⅓ cup light brown sugar
1 tsp salt
1 tbsp Suncore Foods® Midori Jade Matcha Powder
Directions
1. Make the roux: In a small saucepan, combine the bread flour, milk and water and whisk to remove any lumps. Cook over medium-low heat for 3-5 minutes whisking continuously, until the roux starts to thicken.
2. The roux should have the consistency of a curd. Remove from heat and let cool to room temperature.
3. In a medium bowl, combine the dry ingredients.
4. Add the warm milk and roux to the bowl of a stand mixer fitted with the hook attachment. Then add the dry ingredients.
5. Turn the mixer on medium-low and mix for 5-7 minutes until gluten develops and the dough feels elastic.
6. Add the butter one tablespoon at a time and wait until it's fully incorporate before adding more. Mix for another 5-7 minutes until the butter is completely incorporated and the dough is smooth and feels elastic. Note: The dough will be a bit tacky, but feels elastic.
7. Using wet hands, shape the dough and divide into two balls. Transfer one dough to a greased bowl and cover; place the other dough with the Suncore Foods® Midori Jade Matcha Powder back to the mixer bowl and mix until combined. Transfer to a greased bowl. Cover and let rise until doubled in size for 60-90 minutes.
8. After the first rise, divide each dough into 4 pieces.
9. Flatten the dough pieces into ovals, then fold right and left sides (lengthwise) over to the middle so both sides meet but are not overlapped. Roll the dough into an oval again. You will end up with 4 green and 4 white ovals. Place the green dough over the white one and flatten to combine the dough.
10. Starting with a short end, roll into a log. Place the logs seam side down in a lightly greased 22x12 cm | 9" x 5" loaf pan. Cover the loaf and allow it to rest/rise for 60 minutes, until puffy. Brush the loaf with oat milk and bake at 175C| 350°F for about 25-30 minutes.
11. Remove from the oven and let cool into the pan for 10 minutes before transferring to a wire cooling rack.
---