Aqua Blue Spirulina Peppermint Brownie Truffles
Christmas is next week so the holiday vibes are in full effect! We're taking a trip to winter wonderland to enjoy a forest of blue-tiful Peppermint Brownie Truffle Trees and we found the perfect one! The arrangement of these Peppermint Brownie Truffles blue us away! The beautiful winter blue of the white chocolate frosting is created using a dash of Suncore Foods® Aqua Blue Spirulina Powder. Impress your holiday guests with a treat this sweet!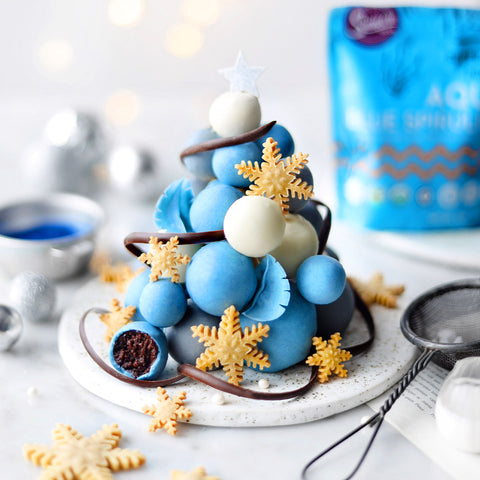 Ingredients
Brownie:
2 tbsp flaxseed meal
¼ cup water
1¼ cups gluten free all purpose flour
½ cup cocoa powder
1 cup coconut sugar or brown sugar
2 tsp baking powder
Pinch of salt
120g non-dairy dark chocolate, melted
½ cup coconut oil
2g instant coffee
1½ cups unsweetened soy milk
2 tsp vanilla bean extract
Blue Frosting:
⅓ cup chocolate frosting of choice
300g dairy free white chocolate, melted
1 tsp peppermint extract
¼ to ½ tsp Suncore Foods® Aqua Blue Spirulina Powder
Directions
1. Preheat oven to 180 celsius. Line an 8" square baking pan with parchment paper.
2. Combine flaxseed meal and water. Let rest for few minutes until thicken.
In a large mixing bowl, combine flour, cocoa powder, baking powder and salt.
3. Whisk together melted chocolate, coconut oil, and instant coffee powder. Pour chocolate mixture to dry mixture. Then add the flaxseed mixture, vanilla, Pour mixture into a prepared pan. Tap gently against the counter to release any air bubbles.
4. Bake at preheated oven 180c for 30-35 mins.
5. Until the toothpick comes out clean. Allow brownie to cool completely in the pan.
6. Use a fork to fluff the brownie into crumbs. Add in chocolate frosting and stir until combined.
 Take a small cookie scoop (or just use your hands) to roll the brownie into small balls. Place in freezer for about 1 hour or until firm.
7. Combine melt chocolate, Suncore Foods® Aqua Blue Spirulina Powder and peppermint and mix well. Dip brownie ball into the melted chocolate. Use a fork to remove them and tap away excess chocolate. Transfer back onto parchment paper. Return to the fridge to set.
---