Green Turmeric Coconut Quinoa with Lentils and Curry
Savory and packed with flavor, these bowls of Green Turmeric Coconut Quinoa with Lentils and Curry will leave you feeling satisfied and nourished!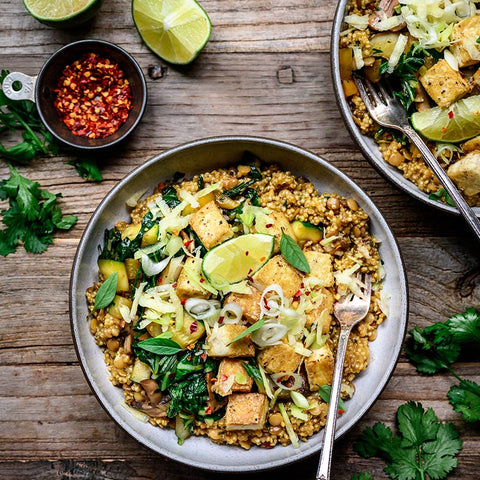 Ingredients
Quinoa Mixture:
1 cup Suncore Foods® Royal Rainbow Quinoa Seeds
½ cup green lentils
1½ cup low sodium vegetable broth
1½ cup coconut milk
1 tbsp freshly squeezed lime juice
1½ tbsp coconut sugar
1½ tbsp low sodium tamari
1½-2 tsp green curry paste
1 tsp white miso
¾ tsp green turmeric powder
½-¾ tsp salt
¼ tsp powdered ginger
2 tbsp finely chopped cilantro
1 tbsp finely chopped Thai basil
Veggie Stir Fry:
2 tbsp veggie oil
½ cup finely chopped green onion
1½ tbsp garlic
2 tbsp low sodium tamari
2 cups sliced thinly sliced bok choy
1¼ cup thinly sliced button mushrooms
1 cup diced zucchini
½ cup finely diced yellow pepper
2 tbsp fresh chopped cilantro
Salt and pepper to taste
Crispy Tofu:
14 oz extra firm tofu, drained and patted dry with paper towel
3 tbsp vegetable oil
1 tbsp arrowroot or cornstarch
Directions
1. Quinoa Mixture: Combine broth, coconut milk, lime juice, coconut sugar, tamari, green curry paste, miso, turmeric, salt, and powdered ginger together in a sauce pot over high heat. Whisk well. Add Suncore Foods® Royal Rainbow Quinoa Seeds and lentils, cilantro, and basil, and stir well, bring to a boil and turn down to medium low. Cover pan and cook for 15-20 minutes until all of the liquid is absorbed. Be sure to stir several times while cooking. Add more liquid if necessary and adjust spices at end if needed.
2. Veggie Stir Fry: Heat oil over medium heat in a frying pan. Add green onion and garlic and cook while stirring for 3-4 minutes. Add all of the veggies, cilantro and tamari.  Season with salt and pepper. Cook, stirring frequently until veggies are softened.Taste and adjust salt and pepper.
---