Fruit Cake with Cerise Prickly Pear Glaze & Cosmos Red Cabbage Whipped Cream
Serve this gorgeous heaven on the tongue flavorful & moist cake as your holiday table centerpiece, your guest will be begging you for the recipe. Loaded with yummy-tasting seasonal fresh fruits, layered with cloud-like whipped cream, and drizzled with glowing drip not only pleasing to the eyes but also amazingly palatable to the taste buds too! The effect is striking, don't you think? This Fresh Fruit Cake with Cerise Prickly Pear Glaze & Cosmos Red Cabbage Whipped Cream makes a statement of its own and it's a perfect dessert to share for the holiday season. It definitely doesn't get much more delicious than that. Send your tastebuds to foodie heaven by recreating the recipe and achieve the magnificent colors for this decadent cake using our Suncore Foods® Powders — Cosmos Red Cabbage & Cerise Prickly Pear.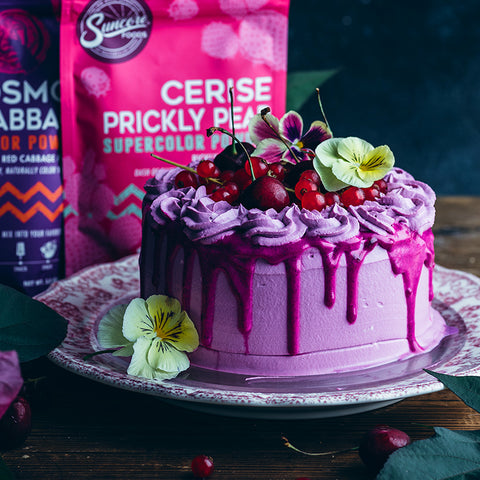 Directions
1. Preheat oven to 350°F. In a small bowl, add butter and milk. Microwave 30 seconds until completed melted. Set aside.
2. In a large bowl, add eggs, vanilla, honey and sugar, and whisk to mix well. Place the bowl over a pot of hot water; keep stirring until the temperature increases to 105F.
3. Remove the bowl from the hot water and place the butter bowl from step 1 over the hot water to keep it warm.
4. In the meanwhile, use an electric whisk to whisk the eggs until pale in color and fall in ribbons when the whisk is lifted. Add flour into the bowl, and gently fold until well combined. Remove the butter bowl from the hot water; add a little batter to the milk bowl and mix well. And then take the milk mixture and pour back to the batter. Using a spatula, gently fold until well combined.
5. Transfer the batter to a 6-in cake mold, bake for 50 ~55 minutes. Carefully remove cake from the pan and cool it on a wire rack. In a large bowl using a hand mixer, beat 2-cup heavy cream, Suncore Foods Cosmos Red Cabbage and sugar until soft peaks form.
6. To Assemble — Slice the cake to half. Place one piece of cake on serving tray and spread top with 1/3 cup whipped cream. Follow the same process for the rest two layers.
7. Mix all glaze ingredients in a small bowl until smooth. Decorate the cake with glaze and fruits.
---