Watermelon Slice Cookies
Baking and fall go hand in hand. How about adding a little slice of summer fun into your fall season's cheers that will be loved by all and brings a smile to your face from the very first bite?! So, get ready for a fun treat like these Watermelon Slice Cookies made with delicious buttery sugary cookie and colored vibrantly with easy of use Powders from Suncore Foods® (Ruby Red Radish, Red Beet, Emerald Pandan Leaf, and Midori Jade Matcha). It doesn't get any cuter? Little slices of bright, cheerful sunshine-in-a-cookie and super festive for any holiday celebration. Sweet, chewy, crispy, and crunchy, these cookies tick every box and then some. And they're so simple to make. You can prepare and assemble the dough into the watermelon log, tightly wrap it and store in the refrigerator in advance. Let's start baking!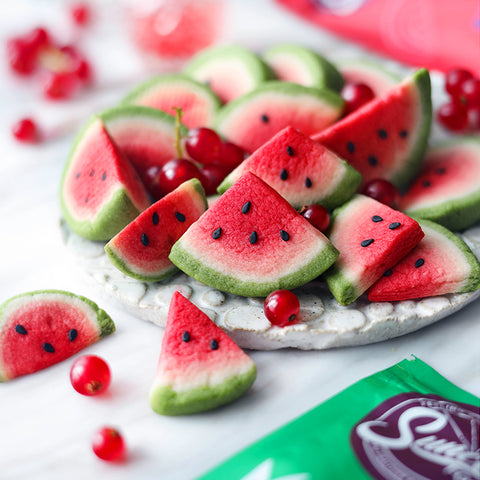 Directions
1. In a large bowl add flour, cornstarch, powdered sugar, and butter, mixing until combined. sugar and butter. Add in condensed milk, vanilla extract and mix until the dough comes together.
2. Divide dough into 4 (red, pink, plain/white and green) add Suncore Foods® Powder and mix to desired colors.
3. Wrap each cookie dough with cling wrap and refrigerate for 20 mins.
4. Roll the green dough onto a piece of parchment paper, form a square. Form the red and pink dough into a log. Wrap the white dough around the pink and green dough around the white dough, rolling with your hands a bit to smooth. Wrap the entire log in plastic wrap and chill for 1 hour.
5. Slice the dough and gently press a few sesame seeds into each cookie. Place cookies back in the fridge for 15 mins before baking.
6. Preheat oven to 170c. Bake cookies for 8-9 mins. Allow cookies to cool completely.
---