Rainbow Baked Donuts
Everyone loves a friend, co-worker, or parent who brings a box of assorted donuts to the party, office, or breakfast. What's more to love are tender and soft baked donuts that satisfy any donut craving or enthusiast with less fat and guilt! Not only are baked donuts a better alternative to the traditional fried donut health wise but they are way quicker and easier to make! No added mess or hassle of having to bust out the oil and fryer. In under a half hour, you could have a fan favorite breakfast spread ready and beaming with beautiful colors to start any day brighter! Incorporate Suncore Foods® Powders to make any color under the sun. Blue Butterfly Pea, Midori Jade Matcha, Purple Sweet Potato, Red Beet…you name it!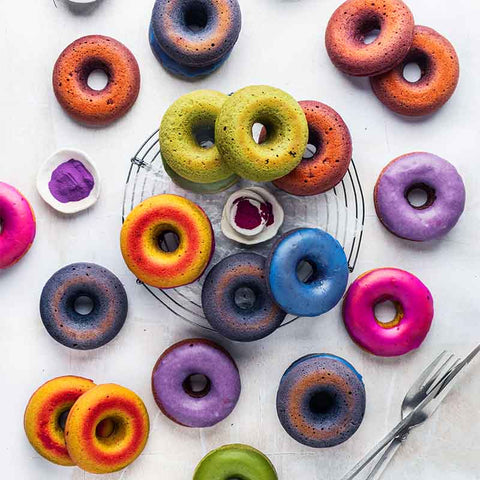 Directions
1. Rainbow Baked Donuts — Preheat oven to 350 deg. F and prepare a baking tray. In a large bowl, combine flour, sugar, baking powder, baking soda, lemon zest and 1 Suncore Foods® Powder. In another bowl, mix remaining ingredients until smooth. Add wet ingredients to the bowl of dry ingredients and mix until well combined. Spoon or pipe mixture into donut cavities and bake for 16 minutes. Allow donuts to cool completely before adding the glaze.
2. Supercolor Glaze — Combine milk and coconut cream (if using) in a saucepan on low heat. Mix in sugar, stir until well combined and the consistency of the glaze is to your preference. Equally divide glaze into 4 bowls and mix in 1 color into each bowl. Dunk donuts into glaze and place them on a wire rack.
---