Emerald Pandan Milk Layer Cake
How perfect are these little delicious rich & moist cakes? These Emerald Pandan Milk Layer Cakes are as fluffy as the softest clouds and will surely gets compliments every time it's served ! The addition of Suncore Foods® Emerald Pandan Leaf Powder enhances its flavor. The fragrance and color of the cake come from the pandan leaves. In case you are wondering what pandan is, it is a leaf that used in many Southeast Asia dishes to flavor with an aromatic vanilla or matcha note and also give the dishes a tint of green hue visual appeal. This cake not only will melt-in-your-mouth delicious, it is an authentic milk cake your family will love!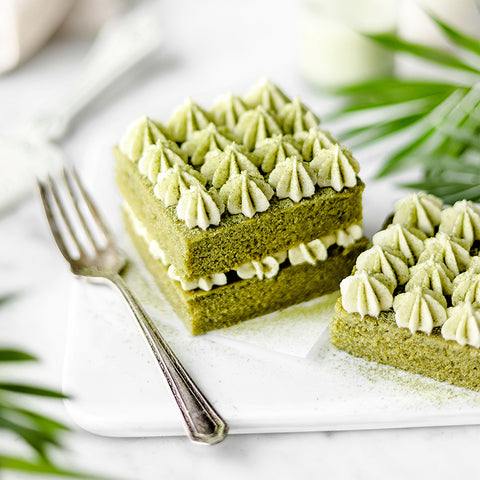 Ingredients
Pandan Milk Layer Cake:
2 1/2 cups all purpose flour
1/2 cup sugar of choice
1 tsp baking powder
3/4 tsp baking soda
1/4 tsp salt
1/2 cup non dairy yogurt
3/4 cup coconut oil
1 tsp vanilla extract
1 1/4 cups unsweetened plant milk
3 tbsp Suncore Foods® Emerald Pandan Leaf Powder
Buttercream:
100g dairy free butter
1 1/2 cups powdered sugar
2 tsp Suncore Foods® Emerald Pandan Leaf Powder
1 tsp vanilla bean extract
1-2 tbsp full fat coconut milk
Directions
1. Add Suncore Foods® Emerald Pandan Leaf Powder into the milk, and mix to incorporate. Set aside. In a mixing bowl, combine dry ingredients. In a medium bowl mix together wet ingredients. Gently fold the mixture with a spatula to incorporate.
2. Divide batter between prepared cake pans (3x 8" square prepared pan) Tap gently against the counter to release air bubbles.
Bake at 175c for 20-25 mins or until a toothpick inserted into the center comes out clean. Remove pan from the oven and let cool in pan for 10 minutes on a wire rack. Invert cakes onto a rack with parchment paper and cool completely.
3. Whip butter in the stand mixer bowl with the paddle attachment, on medium to high speed for about 2 minutes. Stop mixer and add the sifted powdered sugar. Mix on low speed until incorporated, scrape the bottom and sides of the bowl and then add in 1 tbsp of coconut cream (if you're looking for thinner consistency, add more coconut cream) mix on high speed for 2-3 minutes until smooth.
4. Pipe the frosting onto the cooled cake, slice and serve. Enjoy!
---