Chocolate Mousse with Rose Petals
The rich, velvety chocolate goodness of this dessert is your sweet tooth hero! Get your spoons ready to dip into these absolutely scrumptious Chocolate Mousse Jars topped off with Suncore Foods® Rose Petals to add a pink, rosy vibe! Our mouths are definitely watering.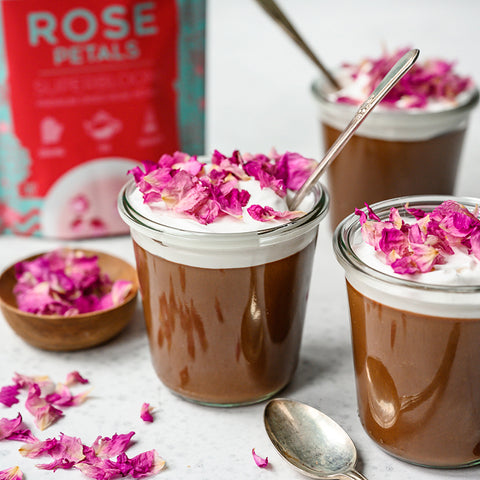 Ingredients
2 cans full fat coconut milk (only use fat layer on top)
1 cup vegan chocolate chips, melted
2 tbsp maple syrup
Pinch of salt
1 tsp vanilla
1 cup vegan whipped cream (store-bought)
Suncore Foods® Rose Petals
Directions
1. Melt chocolate chips in heat-safe bowl.
2. In a blender, combine coconut milk, chocolate chips, maple, salt and vanilla. Stir in whipped cream with a spatula. Transfer to small jars and refrigerate 2 hours. Top with more whipped cream and top with Suncore Foods® Rose Petals.
---