Chocolate Strawberry Quinoa Muffins
Looking for something to pair with your coffee or even just as a snack? You're in the right place! These Chocolate Quinoa Muffins are perfect for any time, any place. Incorporated Suncore Foods® Snow Quinoa Flakes into the batter for a fluffy chocolaty super-fuel muffin!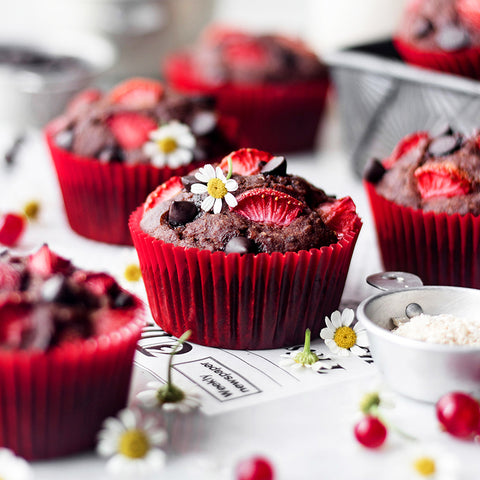 Ingredients
Recipe Makes 9-10 Muffins
Dry Ingredients:
1 1/2 cups gluten free flour
3/4 cup Suncore Foods® Snow Quinoa Flakes
1/4 cup cocoa powder
1 tsp baking powder
1/2 tsp baking soda
1/4 tsp salt
Wet ingredients
1 1/4 cups plant milk soy, rice, oat, coconut milk
1/2 cup coconut oil
1/3 cup rice malt syrup or maple syrup


Garnish: 
1/2 cup diced strawberries
1-2 tbsp dairy free chocolate chips
Suncore Foods® Cacao Nibs
Directions
1. Preheat oven to 170 celsius. Prepare the muffin pan. Set aside.
2. In a large bowl, combine flour, Suncore Foods® Snow Quinoa Flakes, cocoa powder, baking soda, baking powder and salt, Whisk to combine. Then pour in milk, coconut oil, rice malt syrup and mix until incorporated.Scoop muffin batter into prepared muffin tins. About 3/4 full. Gently tap the muffins tin. This step removes any errant air bubbles. Then top with strawberries, Suncore Foods® Cacao Nibs, and chocolate chips.
3. Bake at 170 celsius until a toothpick can be inserted and come out clean, about 20-25 minutes. Remove muffin tin from the oven. Let muffins cool for 5-10 minutes before serving.
---