Double Chocolate Tropical Coconut Tartlets
These o-so-pretty delectable treats are perfect to enjoy when you're on a break or just need a snack! We're obsessed with the Double Chocolate Tropical Coconut Bliss Tartlets that topped it all off with our Suncore Foods® Cacao Nibs & Snow Quinoa Flakes for the sun-shining tropical vibes. These blissful bites will melt in your mouth instantly and invite you to go back for more. Let the tropical temptation in & love it, your tastebuds will thank you!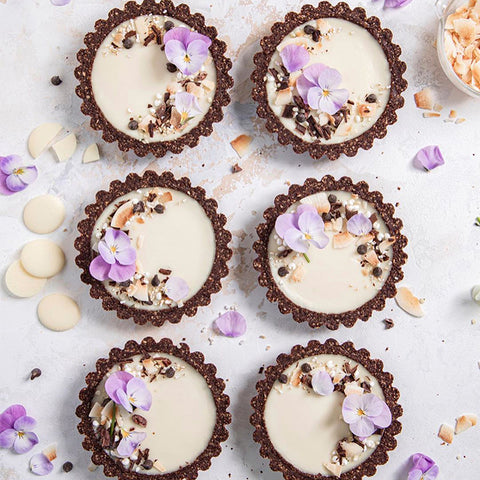 Ingredients
Crust:
40g ground Suncore Foods® Snow Quinoa Flakes
100g | 1 cup rolled oats
2 tbsp raw cacao powder
1/4 tsp salt
5 medjool dates, pitted
1 tbsp melted raw cacao butter / coconut oil

White Chocolate Ganache:
250g coconut cream
1 tsp vanilla bean paste
80g vegan white chocolate, chopped
100g raw cacao butter, chopped
1/2 tbsp cornstarch + 2 tbsp plant milk

Toppings
Suncore Foods® Cacao Nibs
Coconut chips
Chocolate drops
Edible flowers
Directions
1. Crust – Preheat your oven to 175C degrees. In a food processor, combine the Suncore Foods® Snow Quinoa Flakes, oats, cacao, salt and pulse until finely ground. Add the dates and blend until combined. Add the melted coconut oil and blend until the dough starts to come together. Press the dough firmly into the tart tins. Bake for 10 minutes. Let cool down completely.
2. Filling – Add the coconut cream, salt and vanilla to a medium saucepan. Heat over medium low heat until combined. Add the cacao butter and white chocolate and whisk until it's completely smooth. Dissolve the cornstarch in 2 tbsp room temperature plant milk and add to the saucepan. Simmer until the mixture starts to thicken. Pour the filling over the tartlets and let cool down completely before transferring to the fridge to set for 4 hours.
---