Rose-Infused Strawberry Tart
This tart is pure bliss to satisfying your sweet tooth and it tastes as sublime as it looks. The perfect balance between sweet & creaminess with rose water essence, truly show stopping & indulgent! With a slice of this ultra-beautiful and velvety delicate Rose-Infused Strawberry tart you will be obsessed like us, completely. Incorporated Suncore Foods® Rose Buds & Rose Petals to turn the filling into a bright, mesmerizing sweet elegant note. Go ahead and impress your taste buds with this tart!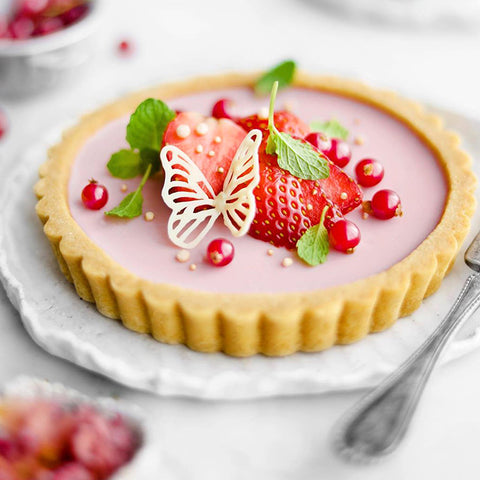 Ingredients
Crust:
1/3 cup (40g) almond flour
2/3 cup (80g) all purpose flour or gluten-free flour
1/4 cup melted coconut oil
1 tbsp maple syrup
1/2 tsp vanilla extract

Filling:
1/3 cup Suncore Foods® Rose Buds & Suncore Foods® Rose Petals
1/2 cup fresh or frozen strawberries
1/2 cup unsweetened plant-based milk
1/2 cup full fat coconut milk
1/4 cup maple syrup
1/2 tsp agar agar powder
Directions
1. In medium bowl, add the crust ingredients and mix until combined. The dough will be thick. Firmly press mixture into the tart pan with your hands, press into bottom and up the sides of tart pan. Bake for 15-18 minutes. Transfer to a wire rack and let it cool. 
2. Place milk with rose Suncore Foods® Rose Buds & Suncore Foods® Rose Petals in a saucepan over medium heat and bring to boil. Remove from heat, let infuse for 5 minutes. Strain rose infused milk through a fine mesh sieve. Allow to cool completely.
3. In a blender rose infused milk and strawberries, blend still smooth.
4. Add coconut milk, milk & strawberry mixture juice into a saucepan and place on the stove on low heat. When the mixture becomes warm add the agar-agar and stirring constantly, cook until agar completely dissolve (2 minutes). Then whisk in maple syrup. Allow to simmer for approximately 1 minute.
5. Turn off the heat, strain rose infused milk through a fine mesh sieve and allow mixture to cool slightly. Pour mixture into the tart. Chill in fridge for at least 4 hours to set.
---