Dark Chocolate Cacao Nibs Cheesecake
Every dessert either needs a little hint or a rich, flavor explosion of dark chocolate. This Dark Chocolate Cacao Cheesecake has all chocolate fans drooling for more! Used Suncore Foods® Cacao Nibs to achieve that decadent, sweet, earthy chocolate taste.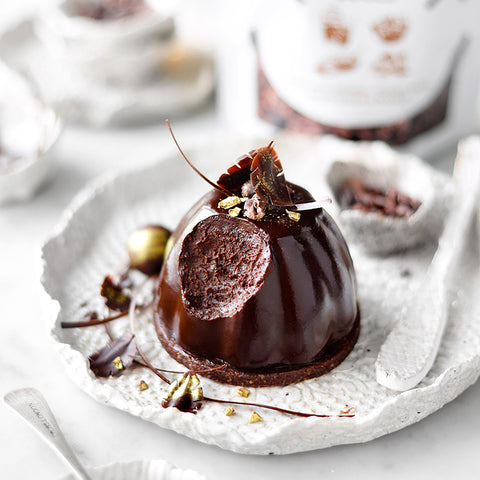 Ingredients
Base:
65g pitted medijool dates
2 tbsp Suncore Foods® Cacao Nibs
1/3 cup almonds
1 tbsp cocoa powder
1 tsp vanilla extract

Cheesecake:
1 cup cashew nut, soaked for 1 hour
1/2 cup full fat coconut milk, refrigerated overnight
150g dark chocolate, melted
2 tbsp pure maple syrup, adjust to taste
1 tbsp cocoa powder
1/2 tsp vanilla bean extract
Directions
1. Cheesecake – Scrape out 1/2* cup of coconut cream from the canned coconut milk. In a food processor add the coconut cream, soaked cashew nuts, maple syrup, melted chocolate, vanilla extract, cocoa powder and process until smooth. Pour mixture into silicone molds. Place in the freezer and freeze until solid, about 4 hours.

2. Base – In food processor, combine base ingredients. Process until a crumbly and sticky texture forms. Flatten the dough. Cut out dough using a circle cookie cutter, place in the freezer to set. When ready to serve, remove cheesecake from mold, glaze the cheesecake (optional) and place it on top of the base and garnish with Suncore Foods® Cacao Nibs. Allow cheesecake to thaw for a few minutes before eating. Enjoy!
---