Pomegranate Red Beet Tart
This tart is the real deal: Flavorful, colorful, and delish!  Our love is blooming bright red for this Pomegranate Red Beet Tart—Incorporated Suncore Foods® Red Beet Powder to turn the filling into a bright, mesmerizing hue. Who wants a slice? Wishing you a remarkable weekend!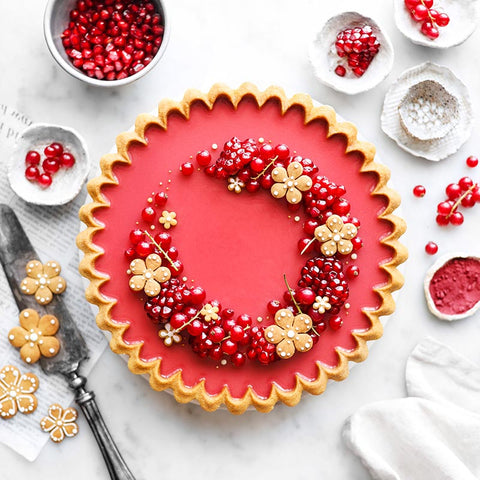 Ingredients
Crust:
2 cups whole wheat flour
1 1/3 cups almond meal
3/4 cup powdered sugar
200g cold vegan butter
3 tbsp cold almond milk
1 tsp vanilla
Pinch of salt

Filling:
2 1/4 cups pomegranate juice
1/3 cup coconut milk
1/4 cup lemon juice
1/3 cup maple syrup, adjust to taste
2 tsp Suncore Foods® Red Beet Powder
1 tsp agar agar powder
Pinch of salt


Directions
1. Preheat oven to 180c. Grease a tart pan (8" deep tart pan) In a food processor, add crust ingredients pulse until combined and dough ball forms. Roll out dough, then place gently into tart pan. Using flower shaped cookie cutter to cut out dough in desired pattern with the remaining dough Bake for 15-18 minutes until crust is golden brown. Allow tart to cool in pan.
2. In a saucepan, bring coconut milk, pomegranate juice to a boil. Add agar-agar, Suncore Foods® Red Beet Powder and stirring constantly until completely dissolve. Then lower the heat and add in maple syrup, lemon juice and salt. Let simmer for 1 min. Turn off the heat and allow mixture to cool slightly. Pour mixture into the tart. Chill in fridge for at least 4 hours to set. Enjoy!
---