Cranberry Pomegranate Tart
S-tart-ing our week by feasting our eyes upon this mouthwatering masterpiece! We're loving this Cranberry Pomegranate Tart from the bottom of our "tarts". Incorporated Suncore Foods® Garnet Elderberry, Red Beet & Ruby Red Radish Powders to bring out this tart's deep red hues and bright colors that have us mesmerized! Who wants a slice?!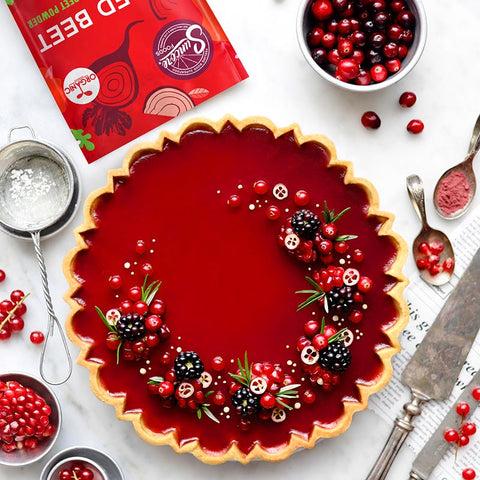 Directions
1. Preheat oven to 180 celsius. Grease a tart pan (8-9"). Set aside.
In a food processor, combine crust ingredients and pulse to combined. You should get a moist mixture than can be easily moulded (add a little more maple syrup if needed) Firmly press into bottom and up the sides of tart tin. Bake for 20-25 mins until crust is golden brown. Transfer to a wire rack and let it cool while you're preparing the filling.

2. In a saucepan add cranberries and pomegranate juice and bring to a boil in a saucepan, stirring occasionally. Reduce heat and simmer, until the cranberries have burst and mixture slightly thickened. strain mixture through a fine-mesh sieve into a bowl, discarding cranberry skins and seeds.
3. Pour the mixture back to the saucepan, add maple syrup and bring to the boil, then whisk in 
Suncore Foods® Powders
and agar agar powder. Whisk until dissolved. Pour mixture to the cooler tart. Refrigerate for 4 hours or until solid.
---