Cranberry Matcha Chocolate Entremet Cake
One look at this cake and we're hooked!  This is the true definition of love at first bite. Get your forks ready to dig into the layers of this Cranberry Matcha Chocolate Entremet Cake! Added Suncore Foods® Midori Jade Matcha Powder into the batter to make the yummy cake layer and glossy glaze. (Entremet; Matcha cake, cranberry orange jelly, matcha white chocolate mousse, matcha chocolate glaze, and white chocolate)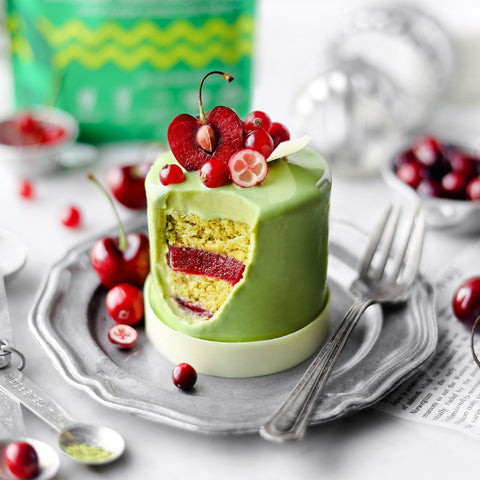 Ingredients
Matcha cake:
1 1/4 cups all purpose flour
2 tbsp cornstarch
2 tsp Suncore Foods® Midori Jade Matcha Powder
1 tsp baking powder
1/2 tsp baking soda
1/2 cup powdered sugar
1/4 cup regular sugar
1 cup plant milk, room temperature
1/3 cup coconut oil
1 tsp vanilla bean extract
1/4 tsp salt
Cranberry Orange Jelly:
1 cup cranberries
1 cup freshly squeezed orange juice
1/3 cup maple syrup
1 tbsp orange zest
1/8 tbsp Suncore Foods® Yellow Goldenberry Powder
Matcha mousse:
1 canned coconut whipping cream, chilled
200g dairy free white chocolate, melted
2 tsp Suncore Foods® Midori Jade Matcha Powder
1 tsp vanilla bean extract
Directions
1. Matcha Cake – In a mixing bowl, combine dry ingredients. In a medium bowl mix together wet ingredients. Gently fold the wet mixture to the dry with a spatula to incorporate. Spread mixture to a lined small baking sheet. Bake at preheat oven 170c for 18 minutes.
2. Cranberry Orange Jelly – In a saucepan bring all ingredients to a boil in a saucepan, stirring occasionally. Reduce heat and simmer, until slightly thickened. strain mixture through a fine-mesh sieve into a bowl, discarding skins and seeds. Pour the mixture back to the saucepan and bring to the boil then whisk in 1/2 tsp agar agar powder. Whisk until agar is dissolved. Pour mixture to silicone molds. Refrigerate until solid.
3. Matcha Mousse – Beat whipping cream with a mixer until creamy, add in melted chocolate continue beating until incorporated.
4. Assemble – Pour first layer of mousse into the mold, Insert the layer of cake and jelly. Add the rest of the mousse on top. Tap gently against the counter to release air bubbles. Place in the freezer until set. Pour glaze over the frozen cake. Leave the glaze to set before using a hot knife to remove the drips. Carefully transfer the glazed mousse the serving plate, garnish and serve.
---