Red Beet Mantou Steamed Buns
Counting down the minutes 'til the new decade! We're wrapping up 2019 with these soft fluffy Red Beet Mantou Steamed Buns! Incorporated Suncore Foods® Red Beet Powder to color these knots of deliciousness with a bright pop of red are sure to steal everyone's heart. Make sure to get one last bite before 2020!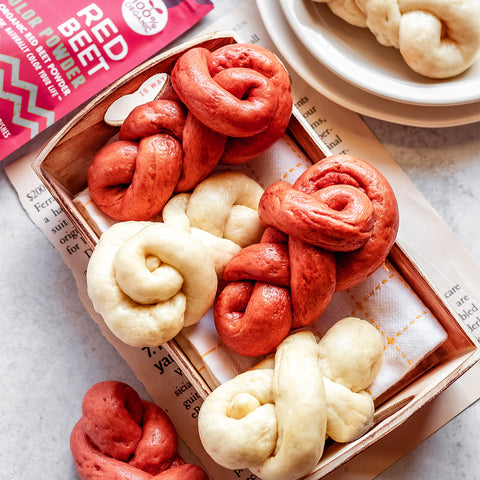 Ingredients
Steamed Buns / Mantou (Yields 6-12)

400g all-purpose flour
200g plant-based milk, lukewarm
4g instant yeast
30g cane sugar
15g Suncore Foods® Red Beet Powder (add more as needed)
Directions
1. In a bowl, combine the flour, milk, yeast, and sugar. Transfer to a flat surface and knead the mixture for 15-20 min by hand (or in a mixer), until a smooth dough forms. Divide the dough in two. To one half, mix in the Suncore Foods® Red Beet Powder, 1-2 teaspoons at a time, and knead until the color is evenly distributed. Repeat until you reach the desired color.
2. Optional: Shape the dough (I divided it into 6 equal pieces, rolled each one into a long snake-like log, and "braided" it into a knotted bun). Otherwise, form into a log and cut into 6-12 pieces (as you would a log of cinnamon rolls). Place onto pieces of trimmed parchment paper and let rest for ~45 min, until doubled in size.
3. Fill a steamer pot with water and bring to a boil on high heat. Place the buns onto the steam plate and cover the pot to cook for 15 min. Leave the lid on for another 5 minutes, then remove the buns from heat and let cool before serving.cake as desired & enjoy!
---