Royal Purple Sweet Potato Pasta
How fun is this?! The dazzling royal purple color is a delicious magical twist on traditional Italian and features one of our most beloved Suncore Foods® Purple Sweet Potato Powder. These Purple Sweet Potato Pasta are eye-catching and a sublime game changer to your lunch or dinner! Get ready to dig in.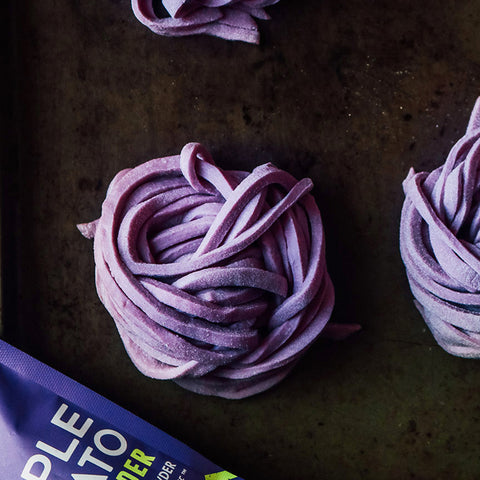 Directions
1. Begin making the dough by mixing the flour, semolina, Suncore Foods® Purple Sweet Potato Powder and salt in a bowl. Create a well and add in the blue water and olive oil. Mix and form a dough.
2. Transfer to a floured working surface and knead dough until smooth and soft (approx. 7 minutes). Wrap in a ball and cover firmly. Let chill in fridge for 1/2-1 hour.
3. On a floured surface, split the dough in half and roll out one half. Try till it out as thin as you can or use a pasta machine. Loosely roll up, making sure to flour the surface and use a sharp knife to cut into strips. Uncurl and lay loosely.
4. To cook, add to salted boiling water and cook for about 4-5 minutes. I kept it simple with olive oil, garlic, tomatoes salt and pepper but feel free to add to your fav noodle/pasta dish. Enjoy!
---