Bunny Almond Sponge Cake Donuts
Hop into sweetness with these adorable Bunny Almond Sponge Cake Donuts! The delicate flavor of almond combined with the light & fluffy texture of sponge cake will make these donuts a delightful treat for your taste buds. Add a playful touch with Suncore Foods® Ruby Red Radish and Cerise Prickly Pear Powders for that eye-catching pop of color, making these donuts not only a sweet delight, but also a feast for the eyes! Enjoy these sweet treats and have a hoppy day!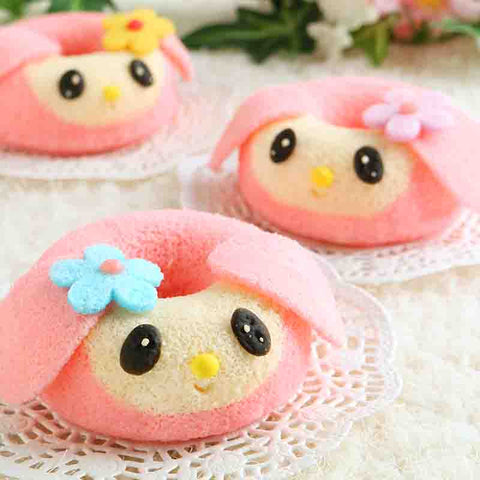 Directions
1. Combine sifted almond flour, icing sugar and rice flour with whole eggs and vanilla. Whisk till fluffy. Add in melted butter/oil. Divide the batter 1(plain): 7(pink). Add in powders above to obtain the desired pink shade.
2. In another mixing bowl, whisk egg white with superfine sugar till firm peaks. Divide the meringue 1:7 as above. Fold in the meringue to the above batters till well incorporated.
3. Pipe a white patch at the bottom of the donut molds. Fill the remaining space with pink batter. Bake at 140 C for 24 minutes. Pour the remaining pink batter into a 10x5" pan and bake for 16 minutes. Assemble the cute bunnies with ears cut out from pink sheet cake, melted chocolate and flower candy.
Enjoy!
---