Chocolate Easter Eggs
Get hoppin' for a fun and colorful egg hunt with our Velvet Red Beet Chocolate Easter Eggs! Add a pop of delightful pink hue to your egg hunt with the goodness of beetroot & red radish velvety rich, smooth chocolate colored with Suncore Foods® Red Beet & Ruby Red Radish Powders. These chocolate eggs are not just pretty, they're simply delicious too! Make your Easter treats into a masterpiece with this easy-to-follow recipe. Happy egg-citing Easter!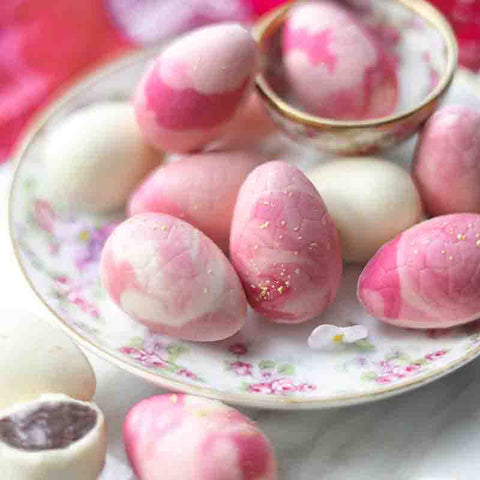 Directions
1. To Make the Ganache — Boil the coconut milk in a saucepan. Pour the hot milk over the dark chocolate, add in vanilla and mix until smooth. Place plastic wrap over it so it is touching the surface of the ganache or place it directly into a disposable piping bag. Place ganache in the fridge until needed.
2. Chocolate Shell – Combine melted chocolate and Suncore Foods® Powders. Polish sphere mold with cotton wool. fill the mold with white chocolate. Tap the mould on the bench to eliminate air bubbles. Turn the mould upside down onto a sheet of baking paper and tap with the handle of the scraper. Once all the excess chocolate has been tapped out, scrape the mould while it is still upside down. Ensure the top surface of the mold is scraped clean. Place the mold on its side until it sets. Once the chocolate is set, pipe the cooled ganache into the mold and let it set. Remove the chocolate eggs from the mold carefully. Take two half eggs and lightly melt the edge on the warm tray and immediately join together. Set aside at room temperature to cool.
---