Blue Butterfly Pea Mango Passion Fruit Mousse Tartlets
This extraordinary tropical flair Blue Butterfly Pea Mango & Passion Fruit Mousse Tartlets are sure to impress and truly tastes as good as it looks. The bright and delicious creamy mousse served in the Blue Butterfly Pea sablé breton cups really shine in this recipe. Colored simply using Suncore Foods® Blue Butterfly Pea Powder to achieve the magnificent bold blue hue. Want to get a taste?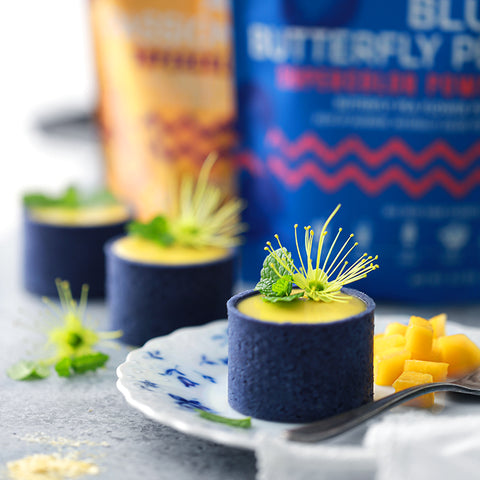 Directions
1. Place all ingredients in a food processor, (except soft butter) pulse until you get wet sand texture; add in 1 tbsp of soft butter, pulse until mixture becomes a soft dough.
2. Roll out the dough into a thin sheet in between 2 parchment papers then place the sheet in the freezer for 15 minutes to firm up.
3. Once ready, cut out the base of tartlets with your tart rings; place on baking pan. Cut out thin strips from the rolled out dough, carefully transfer it to shape the side of the tartlets.
4. Repeat the same process until the dough is used up. (If the dough becomes too soft and hard to handle; place it back to the freezer to firm up).
5. Once done, place the tartlets back to the freezer again to firm up before your bake them.
6. At this stage, preheat oven to 150 degrees Celsius. Bake them for 15 mins. Set aside to cool. Store them in airtight container until ready to use.
---