Passion Fruit Cake
Say hello to today's breathtaking enchanting sweet treat! A wonderful balance of sweet, tart, and tropical notes in every bite. Distinctive layers of passion fruit gelatin made with Suncore Foods® Marigold Passion Fruit Powder & Seeds and Suncore Foods® Sparkly Amber Passion Fruit Flakes, and all baked airy light sponge into perfection. Our week just got a little sweeter, how about yours? Enjoy a slice or two of this Passion Fruit Cake with a lovely cup of tea!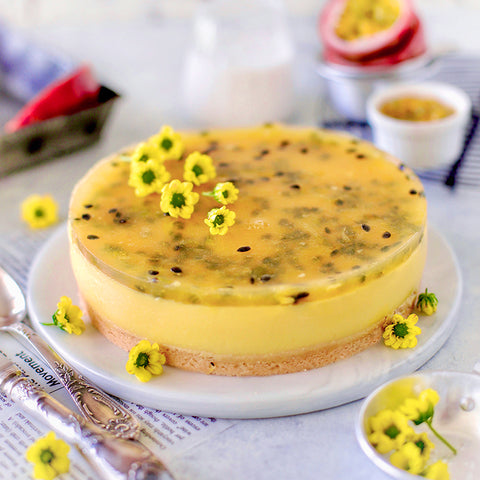 Directions
1. Crust – Preheat oven to 180ºC and prep a 6-inch baking pan with parchment paper. Chuck the flour, maple syrup, coconut oil, and salt into the food processor. Pulse these ingredients at high speed until you get a moist, moldable mixture. Firmly press the crust mixture into the bottom and sides of the lined baking pan. Place the pan into the preheated oven. Bake for 15 minutes (or until the crust turns golden brown). Set aside to cool.
2. Filling Layer – Chuck freshly cut passion fruit pulp into the blender. * Pulse the pulpy mixture to separate the seeds. Strain the mixture through a fine mesh sieve to filter out the seeds. Use the back of a spoon to press out the juice. ** Pour the coconut milk and add cornstarch to a medium-sized pot. Stir well to remove any lumps before adding the remaining ingredients. Let the mixture cook at medium/high heat. Stir frequently to ensure that the ingredients blend well. A curd layer will start forming in the bottom. Whisk the mixture when you notice this to get a silky smooth curd. Stir in brief intervals until the filling thickens. Reduce the heat and continue whisking till you get a consistent texture. (Approx 6-7 minutes). Pour cooked curd onto the crust. Refrigerate for 3 hours (or until set).
3. Jelly Layer – Make the passion fruit jelly layer after the curd sets (and is firm to touch). Use a saucepan to boil ½ cup water and passion fruit pulp at medium-low heat. Add the agar powder to the saucepan. Bring it to simmer while rigorously stirring it to let the agar dissolve. *** Remove the saucepan off the heat when the agar dissolves. Whisk in maple syrup and passion fruit flakes. Let the cooked jelly cool for 10 minutes. Pour the jelly mixture onto the curd filling. Pop the vegan cake back into the fridge to set.
4. Notes — *You can use tinned passionfruit pulp too. ** The step ensures that you get every ounce of pulpy goodness for your curd. ** Stirring prevents lumps.
 ⁣
---