Mini Quinoa Crust Berry Tartlets
We're so berry excited to sink our spoons into this rich, velvety magenta filling. Our love is blooming for these Mini Quinoa Crust Berry Tartlets packed Suncore Foods® Snow Quinoa Flakes into the light, delicious crust and used Suncore Foods® Rose Petals for those flower aesthetics that are to live for. These delicate roses are total eye-candy!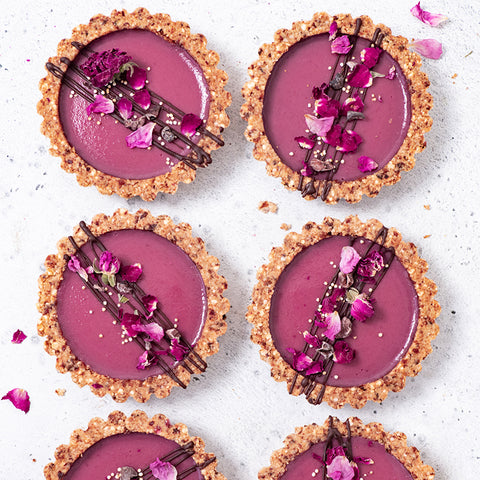 Directions
1. Crust — Preheat oven to 170°C degrees. Place the almond flour, Sucore Foods® Snow Quinoa Flakes, dates, coconut oil, vanilla and salt into a food processor. Pulse several times until the mixture resembles wet sand. It will be a bit sticky. Press the mixture firmly into a lightly greased tart pan. Poke some holes into the bottom of the crust with a fork. Bake for 8-10 minutes until fragrant. Remove and cool completely.
2. Berry Compote — Add the berries, maple syrup and lemon juice to a medium size pot set over high heat. Bring the mixture to a boil, once boiling use a fork to break down and mashed the berries. Continue to cook for 10 minutes or until the jam has reduced and thickened by 1/3. Remove from the heat and let cool.
3. Filling — Place the berry compote, coconut milk, dairy free milk, Suncore Foods® Pink Pitaya Powder and agave in a food processor and blend until completely smooth. Place the mixture into a medium saucepan, add agar agar and corn starch and whisk until well combined. Heat over medium-high and bring to a brief boil, stirring continuously. Continue to cook until it starts to thicken. Remove from heat, transfer to a bowl and let cool down a little before pouring the mixture over the base. Let cool down completely before placing in the refrigerator to set for at least 3 hours. Garnish with Suncore Foods® Rose Petals.
---