Adorable Colorful Sushi Chiffon Cake Platter
Cuteness overload alert!! This ADORABLE Colorful Sushi Chiffon Cake Platter has completely stolen our hearts! Who could ever say no to these cute little faces? We love a soft, light as air, and delicious chiffon cake, it's perfect for any celebration, birthdays, and get-togethers. With the magic of Suncore Foods® Vermillion Annatto & Midori Jade Matcha Powders, we are able to bring this fun and adorable creation to life. Make your little smile the brightest and jump with excitement with this delightful cute cake. Cake is for life, not just for birthdays!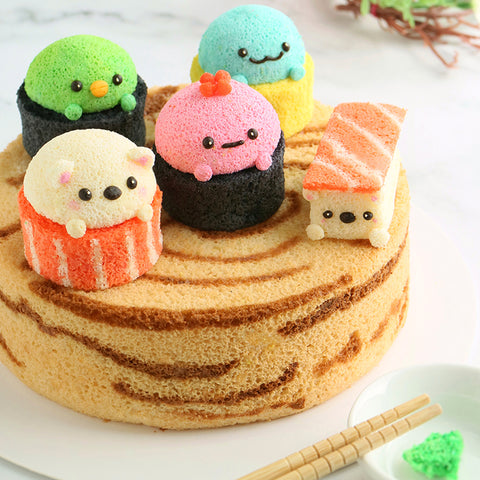 Directions
1. Whisk egg yolks with brown sugar, followed by oil and water. Add in sifted flour and whisk till well combined. Remove 5 tsp batter and add Suncore Foods® Vermillion Annatto Powder and Suncore Foods® Midori Jade Matcha Powder to make dark brown batter.
2. In another mixing bowl, whisk egg whites with sugar till firm peaks. Transfer 10 tbsp meringue into dark brown batter, and the remaining meringue into brown sugar batter. Fold well and pipe dark brown wood grains onto the tube pan. Fill spaces with brown sugar batter. Bake in a 7" cake pan at 140C for 1hr.
---