Zen Midori Matcha Waffles
You won't waffle on this plate of goodness! A most splendid breakfast is waiting for you! With Suncore Foods® Zen Midori Matcha Pancake & Waffle Mix, a plateful of blissful waffles is hot and ready in a jiffy! Topped off with your favorite fruit and sweet honey, you have yourself a quick and super easy breakfast to fuel your day with some fun color and good energy with all of the wonderful goodness of matcha! Have fun, eat breakfast and stay amazing!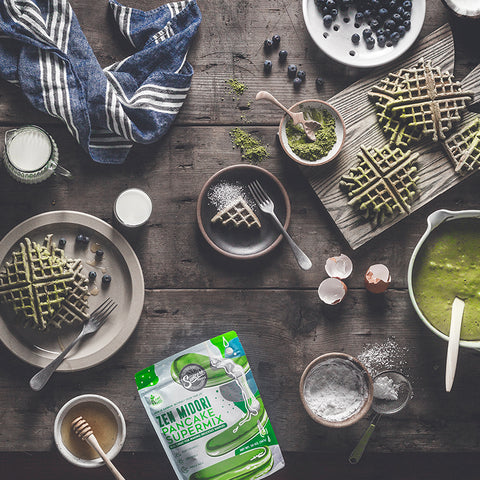 Directions
1. Whisk all the wet ingredients listed under set waffles. Add it to the dry ingredients. Mix well to make a batter.

2. Spray waffle iron with nonstick cooking spray. Pour batter onto the hot waffle iron and use the back of a spoon to spread the batter over the surface of the hot waffle iron. Cook until crisp and browned. Serve with fruits.
---