Kue Jentik Manis (Mung Bean Flour Cake with Tapioca Pearls)
When your sweet tooth is calling, this delicious, one-of-a-kind Kue Jentik Manis is the perfect answer! This special dessert is a combination of creamy mung bean pandan cake mixed with chewy tiny tapioca pearls It's heaven on the taste buds! Recreate this beauty with Suncore Foods® Emerald Pandan, Marigold Passion Fruit Powders & Seeds, Pink Pitaya, and Yellow Goldenberry Powders to add fun, beautiful colors to your table! Expand your palate and enjoy new, adventurous foods with us.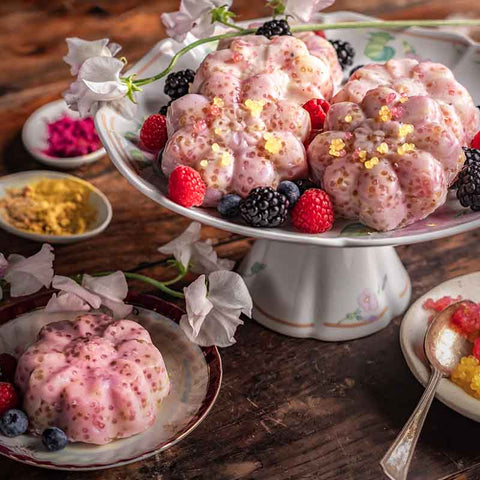 Directions
1. Pearls — Prepare the yellow and pink pearls by cooking tapioca pearls according to the package instructions. In a pot, over medium heat bring some water to boil, and mix in the superpower color thoroughly until well blended. Pour the tapioca pearls into a boiling colored mixture and cook for 5-6 minutes, mixing it from time to time to avoid the tapioca to clump together (the pearls will still have a white center). If the mixture gets too clumpy, you can add another 1/2 cup of water. Turn off the heat, cover with the lid and let it steep to cook thoroughly for 15-20 minutes until the pearls turn translucent. Rinse with cold water to get rid of excess starch and let it drain. Add sugar and mix it well, and set aside.
2. Coconut Cake — In medium heat, pour in the coconut milk, sugar, salt and Suncore Foods® Emerald Pandan Leaf Powder. Mix it well, and let it cook to a gentle boil. In a bowl, add water, and mung bean flour and mix it well Pour the mixture into the coconut milk, and lower the heat. Keep stirring and folding the mixture, it will thicken up Keep stirring and cooking until all liquids turn solid and translucent. Add the colorful pearls and fold them into the coconut cake quickly. Turn off the heat, the cake is ready to be molded/ shaped. Pour the cake into the mold and press it down gently. The cake will be set once the temperature is cooled down. Leave it at room temperature or cool it down in the fridge for 15 minutes before releasing it from the mold. The cake is best made and enjoyed on the same day.
---