Lemon Chia Seeds Bread
Let's turn your regular plain loaf of bread into something even better. Packed with plant-based ingredient & chia seeds are all the goodness integrating these little yum into your breakfast and while the seeds won't add much in terms of taste! Your toast Tuesday breakfast slice of this Lemon Chia Seeds Bread will certainly keep your day going. Made with  Suncore Foods® White Chia Seeds into the batter to give it a delicious boost! Just look at how moist and fluffy this bread is.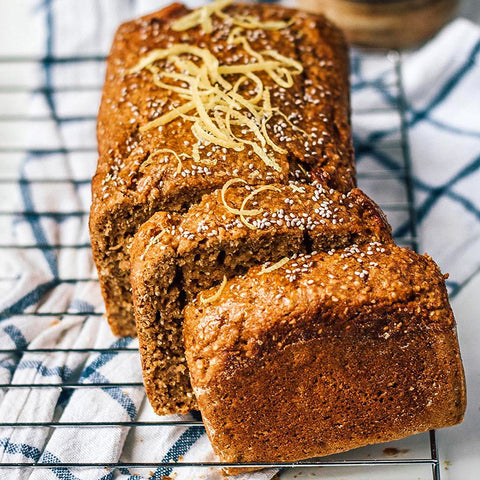 Ingredients
230g wholemeal (or plain) flour (approx. 2 cups)
2 tbsp Suncore Foods® White Chia Seeds
1 cup coconut sugar
1 tsp salt
2 tsp baking powder
Zest of 2 medium lemons
3 tbsp lemon juice
200g mashed banana
1/4 cup plant milk
1 drop lemon essential oil (optional)
Directions
1. Begin by preheating the oven to 180C. Lightly oil your loaf tin and flour, set aside
2. Add your flour, Suncore Foods® White Chia Seeds, coconut sugar, salt and baking powder into one bowl and mix. Add the mashed banana, milk and lemon juice in another and mix together. Combine the wet and the dry, mix until just combined and fold through the lemon zest.
3. Pour batter into the loaf tin and place in oven for 35 minutes or until a skewer comes out clean. Let cool for 15 minutes before carefully removing from tin and letting cool for an extra 10 minutes before serving! I like to glaze some maple syrup straight from the oven for a shiny and extra touch! Enjoy!
---