Garnet Elderberry Swiss Meringue Buttercream Cacao Nibs Spice Cake
This moist and fluffy spice cake has all your favorite spices with a dash of Suncore Foods Garnet Elderberry Powder for an extra vibrant kick. We are definitely taking a slice... or even two. Incorporated Suncore Foods® Garnet Elderberry Powder and Suncore Foods® Pink Pitaya Powder to whip up this gorgeous and yummy creation. This Garnet Elderberry Swiss Meringue Buttercream Spice Cake with Cacao Nibs will have you drooling for more!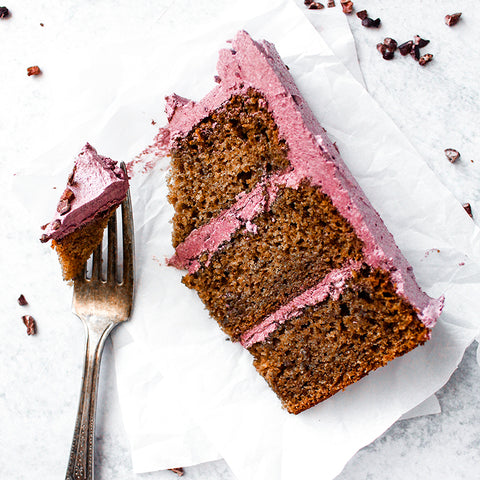 Ingredients
Cake:
1 cup unbleached all-purpose flour
1 cup + 3 tbsp whole wheat pastry flour
1 1/2 tsp baking soda
2/3 tsp baking powder
3/4 tsp salt
3 tsp ground cinnamon
1 tsp ground ginger
3/4 tsp ground allspice
3/4 tsp ground cloves
3/4 tsp ground nutmeg
1 cup coconut sugar
9 tbsp milk (or plant-based milk)
9 tbsp neutral oil
3 tsp vanilla extract
3 large eggs, room temp
1 cup unsweetened applesauce

Garnet Elderberry Pink Pitaya Swiss Meringue Buttercream:
6 egg whites
2 cup granulated sugar
2 cups butter (or vegan butter)
1 cup of Suncore Foods® Garnet Elderberry Powder
1 tsp Suncore Foods® Pink Pitaya Powder
Directions
1. Preheat your oven to 350ºF and prepare three 6" cake pans with nonstick spray. Cut parchment paper circles to fit nearly in the bottom of each pan.
2. In a medium bowl, whisk together the flours, baking soda, baking powder, salt, and spices. In a large bowl, beat together the coconut sugar, milk, oil, vanilla, eggs, and applesauce. Beat in the dry ingredients until everything is mixed well.
3. Divide the batter into three cake pans and bake at 350ºF for 20-30 minute or until a toothpick inserted into the cake comes out with a few crumbs. Allow cakes to cool for 10 minutes in the pan. Flip each pan over to release the cake, discard the parchment paper, and use another cooling rack to invert the cakes right side up. Allow to cool completely.
4. In the bowl of stand mixer, whisk together the egg whites and sugar. Place the bowl over a pot of about 1" of simmering water. Stir constantly until the mixture reaches 160ºF (this makes the eggs safe to eat). Use the whisk attachment on your stand mixer to whisk the eggs and sugar into a meringue with stiff peaks. Slowly add in the butter, mixing until smooth. Add 
Suncore Foods® Garnet Elderberry Powder
 & 
Suncore Foods® Pink Pitaya Powder
and whisk until color is well incorporated.
5. If desired, trim the domes off your cooled cakes. Place your bottom cake on a cake stand or cardboard cake round. Add at least 1/2 cup of frosting, spreading evenly across the cake. Repeat until all of your layers are stacked - for the top layer, invert your cake so that the trimmed top is faced down. Frost the top and sides of your cake as desired. Top with
Suncore Foods® Cacao Nibs
.
6. Store leftovers in an airtight container at room temperature.
---