Mango Watermelon Sunrise Smoothie
An astonishing summertime smoothie that burst with incredible colors and irresistible flavors! This vibrant, refreshing Watermelon and Mango Watermelon Sunrise Smoothie will give you the boost of happiness needed to start your perfect hot summer day!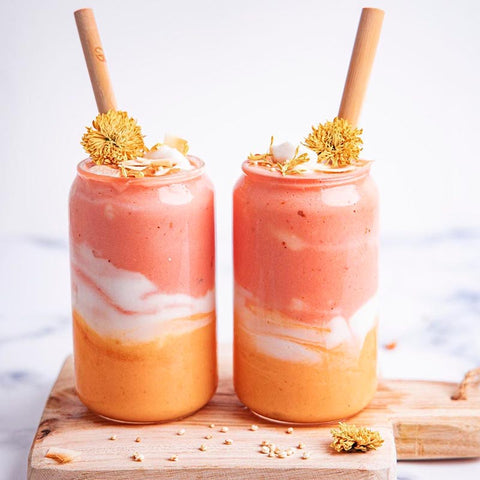 Directions
1. Bring 1 cup of almond milk or fresh, clean water to a rolling boil, then steep 3-loose Suncore Foods® Jasmine Flowers about 60 seconds. Cool down and then sieve. Once cool, use this to blend with both layers.
2. Add all the ingredients for the first layer to a high speed blender and blend until smooth.

3. Transfer to jars.

4. Blend the ingredients for the second layer and pour over the first layer.
5. Top with coconut chips, Suncore Foods® Hemp Seeds, and enjoy!
---