Pink Pitaya Zebra Marshmallows
Who could resist the vibrance and softness of these marshmallows?! These are perfect to snack on and have marvelous flavors that you can enjoy anytime! They are also easy to make and definitely a great treat that can brighten up your day with its bursting color! Made these amazing Vegan Pink Pitaya Zebra Marshmallows using our gluten-free Suncore Foods® Pink Pitaya Powder! Get yourself a bag from our online store at SuncoreFoods.com as they are perfect for mixing into your favorite delicious treats and creating wonderful colors in your dish!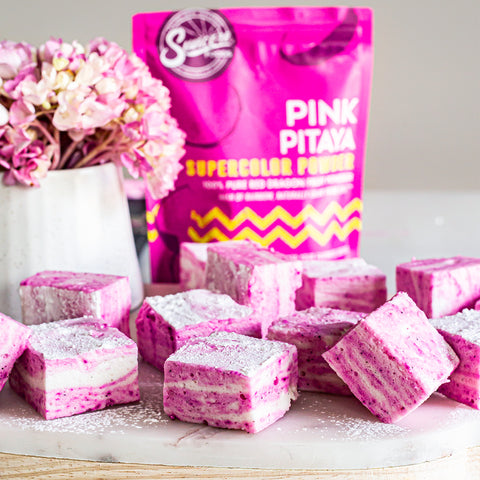 Ingredients
1/2 cup aquafaba (unsalted brine from a can of chickpeas)
1 cup tapioca syrup
2 tablespoons agar agar powder
6 tablespoons water
1/2 tablespoon Suncore Foods® Pink Pitaya Powder
1/4 teaspoon salt
1 teaspoon vanilla paste/extract
Tapioca/arrowroot flour, for dusting
Directions
1. First, line an 8x8 baking pan with parchment paper spray with coconut oil and then generously dust with tapioca/arrowroot flour. Set aside.
2. In your stand mixer, beat the aquafaba on high for about 10-15 minutes.
3. Alternatively, you can do this with a hand mixer.
4. Add the tapioca syrup to a small saucepan and bring to a boil.
5. While waiting for it to boil, dissolve the agar agar in the 6 tablespoons of water and then add it to the saucepan.
6. Whisk the syrup continuously until it reaches a rolling boil, then add the salt and vanilla to the saucepan. Whisk to combine then remove from heat.
7. Turn your mixer down to low, and slowly pour the syrup mixture into the aquafaba to create a marshmallow fluff.
8. Losely stir in the Suncore Foods® Pink Pitaya Powder to create a "zebra" effect.
9. Quickly pour the fluff into your prepared baking pan, smooth the surface, and let it rest for about 1-3 hours/overnight.
10. Once they have set up, dust with tapioca/arrowroot flour and turn it out on a tapioca starch dusted surface and slice into squares (or desired shape).
11. Store in an airtight container, best when consumed the same day, 2 days max.
---