Watermelon Red Beet Jello
Happy July 4th! Let's take off like fireworks and enjoy this adorable watermelon jello! This recipe can go well with your barbecue, if you are feeling a little funky you can easily turn them into jello shots. Bring on the go-to dessert for the summer, and add some fun with Suncore Foods® Red Beet Powder & Black Chia Seeds to create these lovely mini watermelons ! Let's get this party started, and try this fun recipe. We wish you a fun and safe holiday with your loved ones. Happy birthday, America!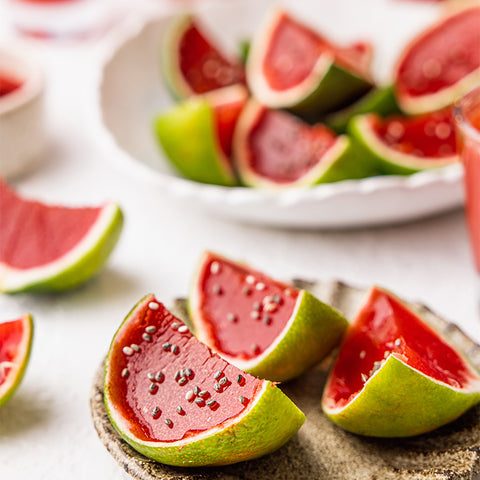 Directions
1. Wash and cut limes in half. Remove the core, leaving only the lime shells. Place the lime shells in shot glasses or an egg tray, ensuring they're steady and won't tumble when the juice is poured in.
2. In a saucepan combine watermelon juice, Suncore Foods® Red Beet Powder, vodka (if using), sugar (if using) and agar agar powder. Once the agar agar powder has dissolved, bring the mixture to boil. Boil for 30 seconds and reduce heat to medium-low. Continue to cook for 2-3 minutes.
3. Immediately pour the mixture into the empty lime shells and refrigerate for 10 minutes. Pour any left-over mixture into shot glasses.
4. Sprinkle some Suncore Foods® Black Chia Seeds onto the semi-solid jello and refrigerate again for 40 minutes or until the jello has properly set.
5. Cut each jell-O lime shell into half before serving.
---