Lilac Taro Yam Purple Sweet Potato Waffles
Enjoy these waffle-y delicious Lilac Taro Yam Purple Sweet Potato Waffles for breakfast, lunch, and Dinner!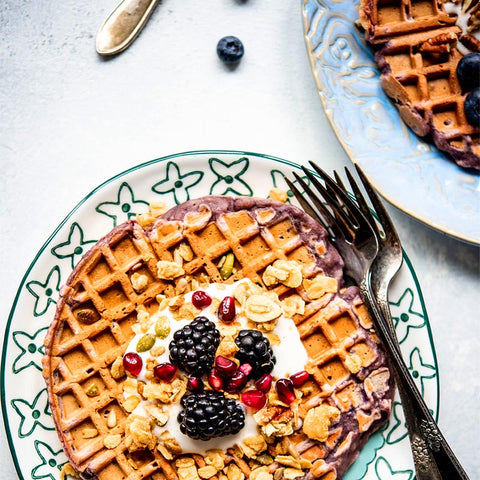 Ingredients
½ tbsp Suncore Foods® Lilac Taro Yam Powder
1 ½ tbsp Suncore Foods® Purple Sweet Potato Powder
1 cup gluten free flour
⅓ cup oat flour
⅓ cup almond flour
1 ½ tbsp cane sugar
¾ tsp salt
¾ tsp cinnamon
¼ tsp ginger
½ tsp baking powder
¼ tsp xanthan gum
¼ tsp baking soda
1 flax egg (1 tbsp flax meal to 2.5 tbsp water)
¾ cup mashed, steamed purple sweet potato
3 tbsp melted non dairy butter
½ tbsp vanilla extract
¾ cup aquafaba
1 ¼ cup dairy free milk
Directions
1. Drain 1 can garbanzo beans, but save the liquid (aquafaba).
2. Add the aquafaba to a stand mixer and mix at high speed for about 10 minutes until the Aquafaba forms stiff peaks.
3. Peel and chop purple sweet potato. Steam sweet potatoes for 15-17 minutes until fork tender.  
4. Mix wet ingredients (including mashed sweet potatoes) in one bowl and dry in another. 
5. Whisk wet ingredients into dry ingredients well until there are no lumps. Using a spatula, gently fold 3/4 cup of aquafaba into waffle mixture. Let sit 20-25 minutes. 
6. When adding waffle batter to waffle maker, do not overfill - this will work much better the thinner the waffles are. Cook about 7 minutes, until crispy on the exterior. Enjoy!
---