Pandan Custard Steamed Blue Butterfly Mochi Bars
Vibrant show-stopping Vegan Pandan Custard with Steamed Blue Butterfly Mochi Bars made with two layers of texture notes that complimented perfectly one another using Suncore Foods® Emerald Pandan Leaf Powder & Suncore Foods® Butterfly Pea Flowers. They will surely bring a smile to anyone's face so prepared to be mesmerized with us!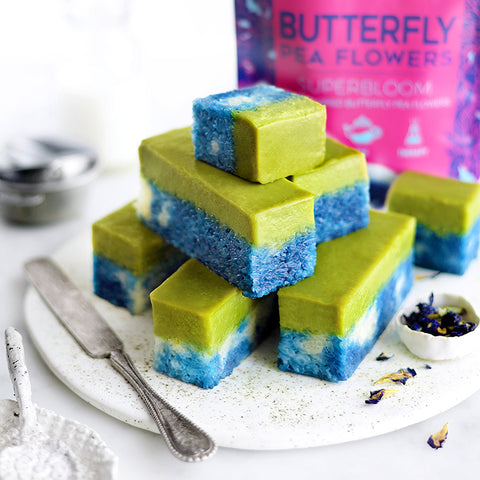 Directions
1. Blue Butterfly Pea Mochi – Make an extract with the Suncore Foods® Butterfly Pea Flowers and boiling water. Place the flowers and water in a heat resistant bowl. Let it soak for 10 mins until the water turns dark blue. Drain well to extract all the liquid. Combine salt and coconut milk. Mix coconut milk with soaked glutinous rice. Place a knotted pandan leaf on the glutinous rice and steam for 30 mins. . Pour blue pea flower water (in patches) over the rice and continue streaming for 10 mins or until cooked. Once glutinous rice is cooked, transfer to an oiled (8.5 x 4.5 x 2.75 inch) pan. Compact glutinous rice, firmly and evenly.
2. Pandan Custard – Blend Suncore Foods® Emerald Pandan Leaf Powder with water and strain the pandan juice, set aside. In a large bowl combine custard ingredients, add pandan juice and whisk until smooth. Stir mixture in a saucepan over low heat until it turns slightly thickened. Remove pot from stove and mix thoroughly. Strain mixture through a fine mesh sieve. Pour pandan mixture onto compacted glutinous rice. Steam for about 30 minutes or until the toothpick comes out clean. Allow to cool for at least 4 hours before slicing. Use an oiled knife to slice cake.
---