Cranberry Pecan Quinoa Flake Waffles
Waffles or pancakes, pancakes or waffles? Today we're choosing waffles! We love these Cranberry Pecan Quinoa Flake Waffles a waffle-lot and we know you will too!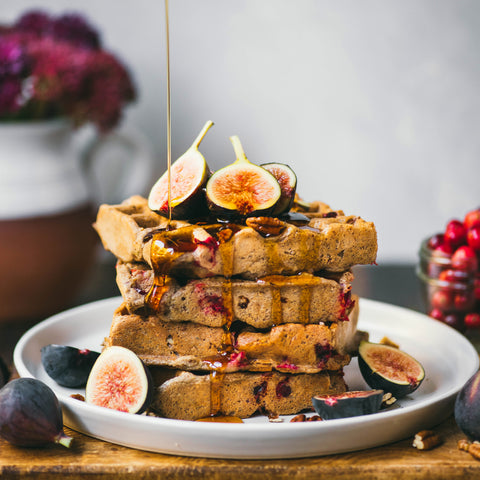 Ingredients
Liquid from 1 can of garbanzo beans
2 cups gluten free all purpose flour
3 tsp baking powder
2 tsp cinnamon
1 ½ tsp salt 
½ tsp xanthan gum
3 tbsp Suncore Foods® Hemp Seeds
3 tbsp Suncore Foods® Snow Quinoa Flakes
1 ¾ cups milk of choice
2 flax eggs*
4 tbsp agave
1 tbsp vanilla
7 tbsp melted vegan butter
1 cup chopped pecans
1 cup organic cranberries
Directions
1. Make flax eggs by combining 2 tbsp flax meal with 5 tbsp water. Let sit to thicken for 10-15 min, stirring several times.
2. Drain beans and reserve the liquid. If you have a stand mixer, pour all of the liquid into your mixing bowl attachment and beat at medium-high speed for approximately 10 minutes until aquafaba forms stiff peaks.
3. Whisk together flour, baking powder, cinnamon, salt, xanthan gum, hemp seeds and Suncore Foods® Snow Quinoa Flakes together in a medium bowl.
4. In a separate bowl, whisk together milk, flax eggs, agave, and vanilla. Slowly incorporate dry ingredients with a hand mixer. Add melted butter and continue mixing.
5.Fold in pecans and cranberries. Finally, gently fold in all of the whipped aquafaba until well incorporated.

6. Cook in waffle maker until golden and crispy.
---