Vanilla Fig Cupcakes
We may have stockpiles of pumpkins and apples for this fall, but, FIGS, we haven't forgotten you! As a great addition to these light and soft Vanilla Fig Cupcakes, Suncore Foods® Fig Chips offer a delicious earthy-sweet flavor and added textural crunch to make eating this cupcake a unique and special experience. Top them off with a stunning, soft lavender frosting made from Suncore Foods® Lilac Taro Yam Powder with special cameos from Blue Butterfly Pea and Red Beet! A shining example of how convenient and easy it is to use our powders in your everyday baking and cooking! You can make any color your mind can dream.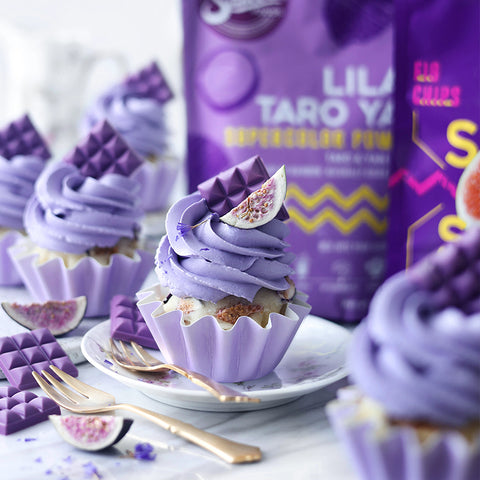 Directions
1. Preheat the oven to 170c. Prepare muffins pan with liners, set aside.
2. In a large bowl, sift dry ingredients and whisk to combine. Add in milk, vanilla, coconut oil, white vinegar. And until well combined. Fold in fig chips.
3. Divide batter evenly between 8 cupcake lines in a muffin pan. Bake for 20
mins until toothpick comes out clean. Let cool completely before frosting.
4. Frosting — Whip butter in the stand mixer bowl with the paddle attachment, on medium to high speed for about 2 minutes. Stop mixer and add the sifted powdered sugar, Suncore Foods® Powders, salt. Mix on low speed until incorporated, scrape the bottom and sides of the bowl and then add in vanilla and milk.
5. Pipe the frosting onto the cooled cupcakes and serve. Enjoy!
---