Taro Yam Coconut Pandan Steamed Cake
Vibrant purple sweet, moist, and silky layers of goodness stack on one another made with a steamed labor of love. Perfect as a dessert or as a snack that will surely satisfy your sweet cravings. You can bite all at once or munch on each layer. The lovely gorgeous mesmerizing purple hue is achieved by adding Suncore Foods® Lilac Taro Yam Powder. Simply delicious!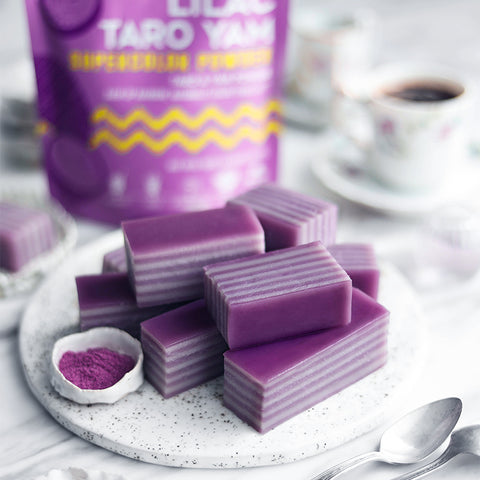 Directions
1. In a large pot combine water, coconut milk, sugar, Suncore Foods® Emerald Pandan Leaf Powder liquid and salt.
2. In a mixing bowl mix together tapioca flour, rice flour and all purpose flour. Set aside.

3. Gradually add coconut milk mixture into the dry mixture. Whisk until smooth and combine. Then strain mixture through a sieve.
4. Divide mixture in two equal portions, add dissolved Suncore Foods® Lilac Taro Yam Powder mixture into one portion, keeping one portion white.
5. Grease the loaf pan with oil then place it in the steamer.

6. Use same size measuring cups to spoon the mixtures (to get the even layers).

7. Start with purple color, then white and purple. Pour 1/3 cup (depending on the pan you use) purple batter into the pan. Steam for 5 minutes. Then pour in white layer and steam for 5 minutes. Repeat this sequence until the batter is used up. Lastly, steam for 15 minutes. Let it cool for at least 4 hours before slicing. Use an oiled knife to slice cake and enjoy!
---