Raspberry Scones with Raspberry Rose Cold Brew Cacao Glaze
A batch of these Raspberry Scones with Raspberry Rose Cold Brew Cacao Glaze will be 'scone in no time!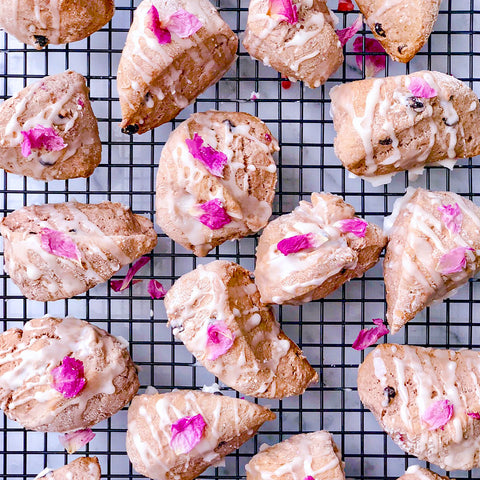 Ingredients
Scones:
2 cup all purpose flour (use gluten-free flour for a gluten-free option)
1 tbsp baking powder
½ tsp baking soda
1 pack protein powder of choice
¼ cup
Suncore Foods® Cacao Nibs
5 tablespoons coconut sugar
½ teaspoon salt
5 tablespoons coconut oil melted and cooled
1 cup full-fat canned coconut milk
1 teaspoon pure vanilla extract
1 cup fresh raspberries
Glaze:
1 cup of vegan powdered sugar
1 tsp rose water
1 tsp cold brew coffee
Directions
1. Preheat the oven to 400 degrees F and line a baking sheet with parchment paper.
2. In a mixing bowl, stir together the flour, baking powder, protein powder, Suncore Foods® Cacao Nibs, Suncore Foods® Rose Petals, coconut sugar, and salt.
3. In a separate small bowl, whisk together the coconut oil, coconut milk, and vanilla extract.
4. Pour the wet mixture into the bowl with the dry mixture, and stir until a dough is formed. Carefully fold in the raspberries.
5. Turn the scone dough out onto the parchment-lined baking sheet and form it into a ball. Press it into a round disc about 2 to 3 inches thick. Cut triangles using a knife, making 8 equal-sized scones or you can cut smaller triangles.
6. Evenly space the scones on the baking sheet and bake for 18 to 22 minutes, until browned. 
7. Allow scones to cool at least 10 minutes before drizzling them with the rose cold brew cacao glaze.
---