Cacao Chocolate Hemp Quinoa Bars
It's always a YES to goodness in Suncore Foods® Family, even if that means chocolate! These delicious Chocolate Bars are perfect to fuel your day, whether you need a snack, on the go or before a workout!  They're packed with Suncore Foods® Cacao Nibs for that rich chocolate indulgence as well as Suncore Foods® Snow Quinoa Flakes & Hemp Seeds. After the initial crunch on these bars, get a taste of the smooth, delicious chocolate notes! Definitely a yes from us!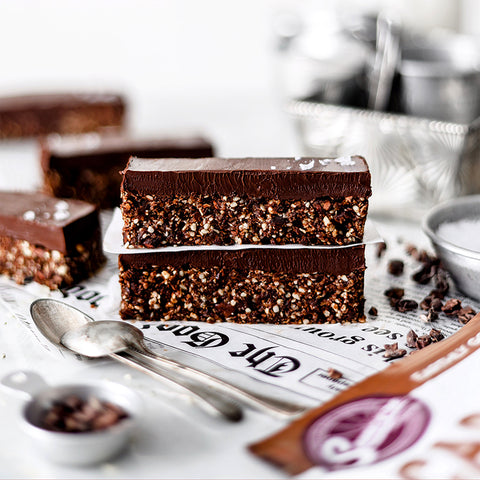 Directions
1. Add dates and almonds in a food processor. Process until chunky. Next add in peanut butter, desiccated coconut, cocoa powder, Suncore Foods® Cacao Nibs , and vanilla extract. Process again until mixture is clumping. Then add the Suncore Foods® Hemp Seeds, Suncore Foods® Snow Quinoa Flakes, sea salt, pulse to combine. If the mixture is dry, add 1-2 tablespoons of coconut oil.
2. Add mixture into a loaf pan lined with parchment paper, pressing evenly towards the sides of the pan. Place pan in the freezer for 30 minutes.
3. Melt chocolate with coconut oil. Pour chocolate over the bar and return to the freezer for 10 minutes to set.
---