Rainbow Pancakes
Start your blissful day right by creating your own magical rainbow every morning with our Suncore Foods® Pancake & Waffle Mixes! Enjoy an enchanted breakfast filled with sunshines and rainbows while taking in all the happy magic and extraordinary flavors using the great magical powers of our Suncore Foods® Heroic Blue Spirulina, Power Pink Pitaya, Ultra Violet, and Zen Midori Matcha Pankcake & Waffle Mixes! Grab a bag by visiting our online store at SuncoreFoods.com and feel the wondrous energy flow through your morning breakfasts!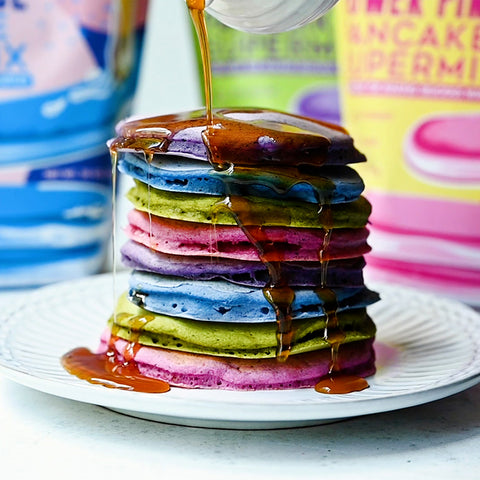 Directions
1. Add the different Suncore Foods® Pancake & Waffle Mixes to 4 different bowls and add 1/4 cup plant-based milk to each. Stir until combined and set aside for 5 minutes.
2. Then, cook the batter as you would regular pancakes / according to package directions. Serve with your favorite toppings and enjoy!
---