Power Pink & Ultra Violet Pancake Mini Bites
Make your breakfast fun and colorful with Power Pink Pitaya and Ultra Violet Pancake & Waffle Powder Mixes! Get ready for a supercharge to your morning... but the fun doesn't have to stop there, who says pancakes are only for breakfast? We think you can enjoy this anytime and anywhere! Get your hands on our newest product, and make these pancakes from the comfort of your own home, it's as easy as that. By the way, these mixes are plant-based with no preservatives! Make your way over to our website to give it a try and check out our other new flavors as well, Suncore Foods® Heroic Blue Spirulina and Zen Midori Matcha Pancake & Waffle Powder Mixes, get them all and make the rainbow!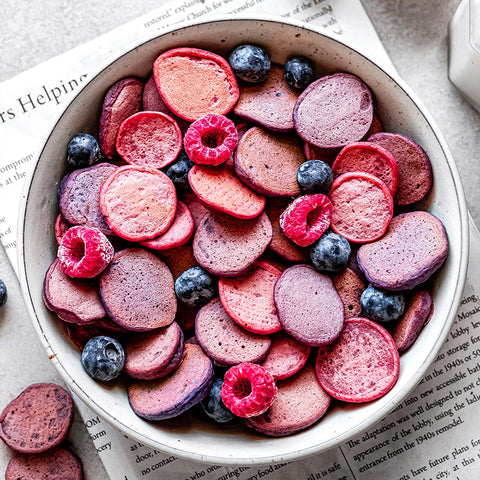 Directions
1. Add the Suncore Foods® Power Pink Pitaya Pancake & Waffle Powder Mix and Suncore Foods® Ultra Violet Pancake & Waffle Powder Mix to 2 separate bowls. In a jar, combine the milk, tahini, and sweetener, then pour half the mixture into the pink mix and the other half into the violet mix.
2. Stir each mixture until combined and set aside for 5 minutes. Grease a skillet on medium low heat and spoon on 1-2 teaspoons of pancake batter at a time (for mini pancakes).
3. Once bubbles appear, flip each pancake and continue cooking until both sides are browned. Serve as "cereal" or with your desired toppings. Enjoy!
---