Zen Midori Matcha & Heroic Blue Spirulina Tie-Dye Waffles
These bright colorful waffles are an edible tie-dyed creations that might look like art, but they are just as fun to eat as they are to create. Used Suncore Foods® Zen Midori Matcha Pancake & Waffle Mix with Suncore Foods® Heroic Blue Spirulina Pancake & Waffle Mix to create these colorful work of art in just 15 minutes! It is so simplelicious that you can make this everyday with your family and enjoy a special breakfast together. Superfied your day with these super simple tie-dye waffles & unleash your inner artist with us.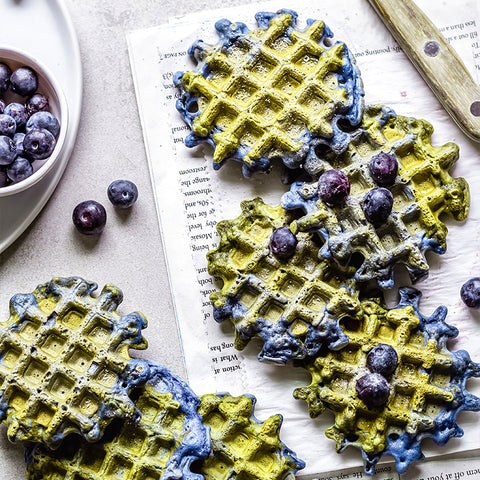 Directions
1. Combine the mixtures in 2 separate bowls and let rest for 5-10 minutes.
2. Preheat and grease a waffle iron, then spoon the batter in alternating steps. Cook the batter as you would any waffles and serve. Enjoy!
---