Spicy Chili Oil Rainbow Noodles
This Spicy Chili Oil Rainbow Unicorn Noodles are the best way to add bright and fun color into an easy, simple comfort dish perfect for any time, any day of the week! Colored simply with Suncore Foods® Powders (Red Beet, Yellow Goldenberry, Midori Jade Matcha, and Lilac Taro Yam Powders) in these swirls of noodles! You can also create this with as many colors as you want with our powders, enjoy & have a magical time!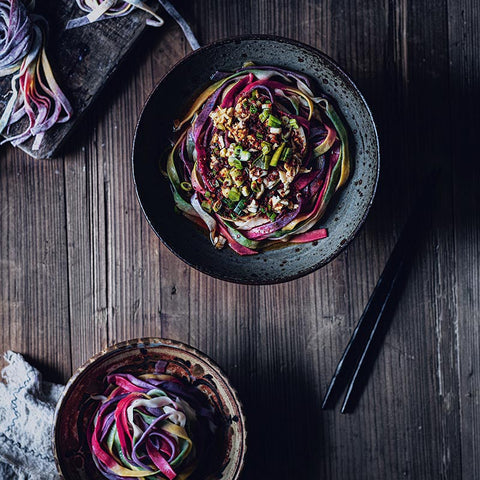 Directions
1. In a big bowl, combine all ingredients together and mix until it forms a ball (the dough should be firm). Cover with a wet towel and let it rest for 10 minutes. Transfer the dough to a working surface and knead until the dough becomes smooth. Follow the same process for each dough.
2. Roll out each dough to a flat disk then assemble them together by layering one piece on top of another. Roll out the dough to a flat disk again and then cut into 4 strips. Line up the 4 strips (strips facing up) and assemble them together. Roll out the dough till it is flat enough to feed into a pasta machine on level '0'.
3. Make sure the stripe is horizontal to the machine. Feed it through repeatedly until it gets thinner. Then cut it into long strips.
4. Cook the noodle in boiling water for 4 minutes and rinse in cold water.
5. Place the cooked noodle in a bowl, add in garlic, ginger, scallions and chili flakes on top. Heat the oil in a saucepan to 250 F and pour it onto the noodle. Add soy sauce, vinegar and sugar to serve.
---