Sparkly Passion Fruit Colorful Sugar Cookies
If ever there was a recipe designed to make you happy, this is it! We cannot stop thinking about these glittery sprinkled joy-filled delights! Pair these Sparkly Passion Fruit Colorful Sugar Cookies with your favorite nut milk and voila, you have the perfect snack!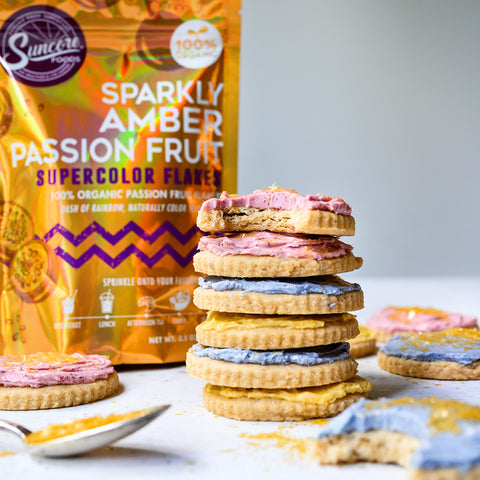 Directions
1. Preheat oven to 350 F. Whisk together gluten free flour, baking powder, baking soda, and xanthan gum in a large bowl. Using a stand mixer or hand mixer, cream coconut oil, sugar, maple syrup, almond milk, and vanilla until smooth. Slowly add dry ingredients and mix until batter comes together. Cover and refrigerate dough for 30 minutes. Remove from refrigerator, and roll out on a silicone mat or cutting board that is lightly covered with gluten free flour. Using a round cookie cutter, cut cookies out of dough and transfer to parchment paper-lined baking sheets. Bake for 8-10 minutes. Remove from oven and cool completely before frosting. 
2. Make sure butter is completely softened. If you need to do this quickly, microwave in 7 second intervals until soft, but not melted. Cream butter in stand mixer or in a mixing bowl with hand mixer. When light and fluffy, slowly incorporate powdered sugar (about 1/2 cup at a time). When fully incorporated, add remaining ingredients and continue mixing until light and fluffy. Divide frosting evenly between 3 bowls and color with Suncore Foods® Powders. Add 1 tsp each of Suncore Foods® Blue Butterfly Pea Powder, Suncore Foods® Pink Pitaya Powder, and Suncore Foods® Yellow Goldenberry Powder to color frosting. To frost cupcakes, use a piping bag or simply use a knife or spatula. Sprinkle generously with Suncore Foods® Sparkly Amber Passion Fruit Flakes. Store in covered container in refrigerator.
---