Rose Tea Poached Pears with Coconut Rose Yogurt
Looking for elegant and refined holiday dessert and perfumed the house so sweetly? Poached pears in rose tea is one of the most elegant and delectable desserts you can enjoy. Not only are they gorgeous bust taste amazing with a toasted coconut rose yogurt sauce made with our Suncore Foods® Rose Petals and topped with our Suncore foods® Fig Chips & Rose Petals! A must have dessert for fall.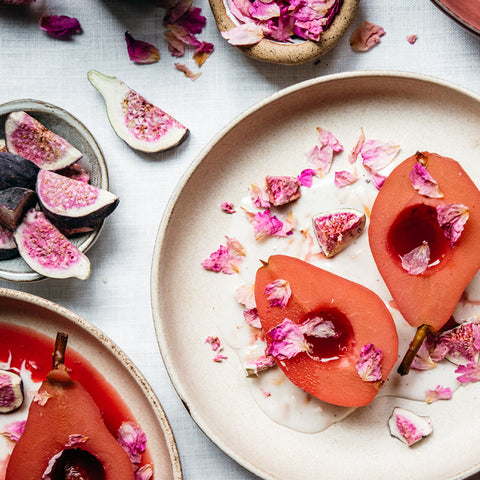 Directions
1. Poached Pears — Add tea, sugar and vanilla extract to a saucepan over medium heat. Bring to a simmer, then add the peeled, halved pears in a single layer. Simmer for 20-30 minutes, until pears are tender and fragrant. Let cool in liquid.
2. Coconut Rose Yogurt — Bring the coconut milk to boil and add Suncore Foods® Rose Petals, cook for 5 minutes and let cool. Sieve out the rose petals and add yogurt.
3. Spread onto a plate or shallow bowl, top with poached pears, Suncore Foods® Fig Chips and Suncore Foods® Rose Petals. Optional: top with more poaching liquid.
---