Rose Cerise Prickly Pear Lassi
Beat the heat and refresh your day with this eye-pleasing, mouth-watering Rose Cerise Prickly Pear Lassi! Take a sip and taste the rose aroma, with a hint of vanilla and smooth and creamy yogurt, it is just perfection. Recreate this beautiful and refreshing rosy pink hue with Foods® Cerise Prickly Pear Powder, unforgettable rose aroma with Suncore Foods® Rose Petals.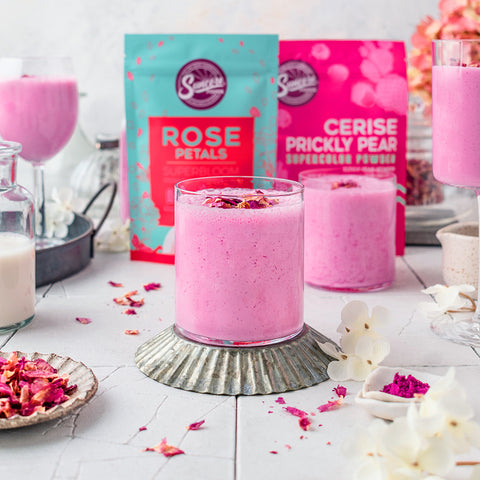 Directions
1. Steep Rose Tea — Place ½ cup Suncore Foods® Rose Petals in hot water for 15-20 minutes. Using the back of a spoon, press down on petals to release maximum flavor and color. Strain tea into a saucepan and discard rose petals.
2. Rose Syrup — Add sugar to the saucepan and bring to boil on high heat. Boil for 1 minute and reduce heat to medium. Continue to cook until the mixture starts to thicken, approximately 10 minutes (depending on the temperature). Remove from heat and stir. Allow syrup to cool down for 5 minutes in the saucepan. The syrup will continue to thicken as it cools.
3. Lassi — While the syrup is cooling, place all lassi ingredients to a blender. Add rose syrup and blend until smooth and the rose petals are very well combined. There shouldn't be any whole rose petals remaining. Pour into a glass over ice or as is and enjoy.
---