Red Beet Ebony Carrot Coconut Cranberry Bundt Cake
This beautiful, vibrant pink coconut cranberry bundt cake is perfect for the upcoming holiday and a great way to add color to your table! As classic as it gets, this cake is moist, soft, and fluffy with a pleasant hint of cranberry flavor; you can elevate this delightful treat with Suncore Foods® Cosmos Red Cabbage, Ebony Carrot, and Red Beet Powders to achieve this rich and lively pink. A cake is always a great idea!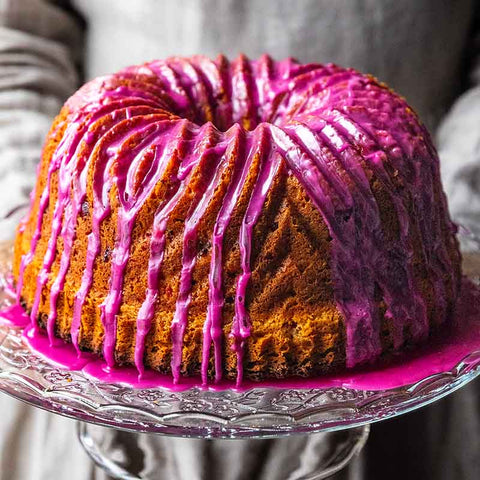 Directions
1. Heat oven to 375 F.
2. Whisk together the eggs, vegetable oil, milk, yogurt, vanilla, and sugar. Sift in the all purpose flour, salt, and baking powder in two additions and mix until just combined. Fold in the coconut flakes and the chopped cranberries. Pour the batter into a buttered and floured bundt cake tin (10-12 cup capacity) and bake until a tester inserted in the middle of the cake comes out clean – about 50-55 minutes. Rest in the tin or 5 minutes and then invert to release the cake and let cool on a wire rack.
3. Add confectioners sugar, Suncore Foods® Powders, and water in a bowl to combine. Pour over the cooled cake and serve.
---