Rainbow Waffles
Eat the rainbow for breakfast and shine all day. Let's start the day brightly with this plate of delicious Rainbow Waffles, serve it with your favorite fruit & syrup and enjoy! A great morning is not complete without Suncore Foods® Pancakes & Waffles Powders! Make it fun and bright with a dash of color. Make your little ones come running to the table with joy. Shine on & be amazing!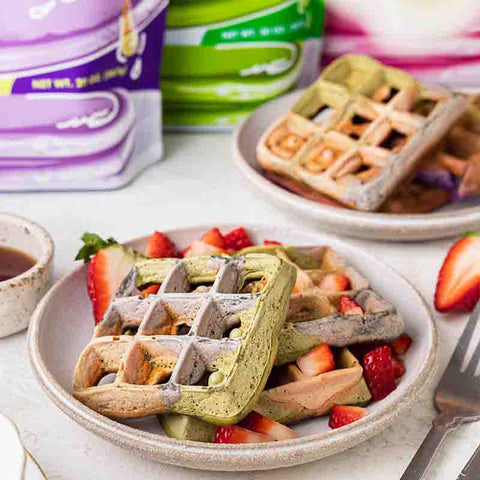 Directions
1. In three separate bowls, combine one Suncore Foods® Pancake & Waffle Powder with ¾ cup vanilla oat milk and ½ tsp vanilla extract.
2. Follow package instructions and set aside batters for 5 minutes.
3. Follow waffle manufacturer's instructions to prepare the waffle iron. Fill one-third of each waffle mold with each of the Suncore Foods® Pancake & Waffle Powder batters. You should have all three colors mixed into each individual waffle. Continue to follow manufacturer's instructions to cook the waffles.
4. Serve with maple syrup and fresh strawberries (or fruit of choice).
---